Indian Loaf and Spinach
I had been craving Indian flavors, and although the recipe I was looking at called for a quinoa loaf with absolutely nothing Indian about it, I felt I could take it in an India direction, and that's exactly what I did…although it's pretty darn spicy, so I wouldn't recommend eating without a healthy dollop of plain soy yogurt on top.  Unfortunately I don't remember exactly what was in the pkg of chutney mix I included, but I can tell you it was bright red and pretty hot…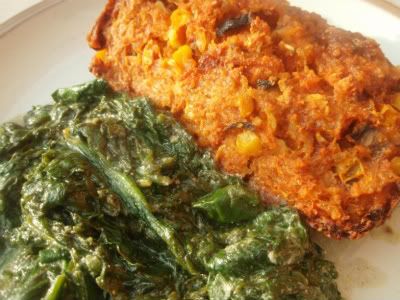 I'm also a fan of recipe that allow me to smush a bunch of things together and oven-bake, which is pretty accurate for this one, so that's another point  for it in my book…
Ingredients
1 tbs mustard oil
8 ounces sliced, assorted mushrooms
1/2 cup garbanzo flour
3/4 cup rolled oats
1 8 ounce packet spiced chutney mix
2 cups cooked sticky rice
1 cup fresh shucked corn
1/2 chopped celery greens
1 cup chopped onion
1/2 cup brown sugar
S+P
Directions
1. Preheat oven to 350F. Grease a loaf pan, and pour mustard oil into a medium sized skillet over medium heat. Combine rice and water in a pot to cook.
2. Add mushrooms and onions to the heated skillet, season with S+P and cook until onions are translucent.
3. Combine flour, oats, 1/2 cup water, in a large food processor, and pulse until smooth. In a large bowl, combine mushrooms, rice, corn, greens, onions, and chutney mix. Then mix the two.
4. Transfer to loaf pan, flattening on top, and sprinkling with brown sugar. Bake for 1 and 1/4 hours, and allow to cool at least ten minutes before slicing and serving.
The spinach dish on the side was also Indian in terms of flavor and actually melded very well with the loaf as a cooling element.  I heated up a bit of mustard oil and cumin, then wilted down a large bag of baby spinach and stirred in a couple spoonfuls of soy yogurt after turning off the heat.  Quick and delicious.  All this meal needed was a mango lassi on the side and it would've been perfection…
Selah.