Cucumber-Tomato Salad, Pot Roast Seitan, Cornbread, and Green Bean Pepper Salad
With the exception of the quick salad I whipped up, all of these recipes came from the Passionate Vegetarian, a cookbook that is seriously undervalued in my kitchen, considering how much it has to offer.  I wasn't a huge fan of the green beans, which ended up tasting very "mustardy" but I did like the cornbread and seitan quite a bit, and my favorite (not surprisingly) was the quick cucumber salad I whipped up in two minutes.  First check out some of the cookbook creations:
I roasted a red pepper on the stovetop for this dish, but it was just plain too overpowered by all the mustard called for…I wouldn't do the same thing again.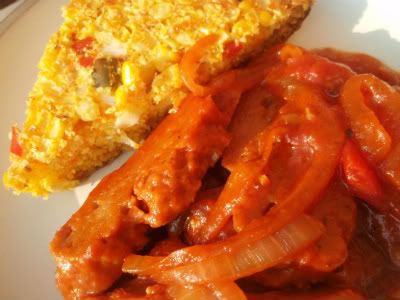 I was a lot happier with the seitan pot roast and cornbread, which had actual corn and jalapenos in it. (the bread) and some serious flavor in the seitan.  That is a recipe I would make again, because among other things, it made my apartment smell AMAZING.  I'm all for dishes that make my place smell good…although I'm not getting anything from the cholent in the slow cooker yet….(a future post, assuming it's edible).
Last but not least, was the quick cucumber salad that I really enjoyed.  I peeled and chopped two cucumbers along with halving a handful of cherry tomatoes from my balcony plant.  I then tossed the veggies with a healthy dosing of lemon juice, white balsamic, and pinch of raw sugar.  I can't imagine anything better…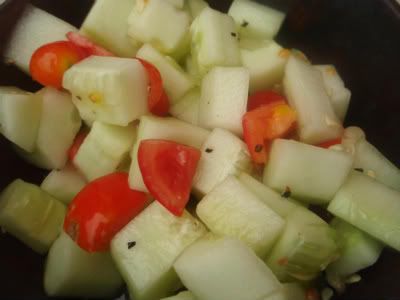 I finally getting back into the swing of things, and will be spending my first weekend at home since returning to the East Coast, so hopefully I'll get back into my normal posting groove here as well…until then, I appreciate your patience.
Selah.