Broccoli-Corn Salad and Mediteranean Pizza
When you've got some beautifully colored veggies and it's a hot summer day, cooking things seems almost criminal, and when I hit on the idea for a quick broccoli-corn salad, I knew it was paydirt.  This was delish (as Rachael Ray would say) and quick and easy.  I did blanch the broccoli a bit…but shhhh!  Don't tell and we can pretend it was all totally raw.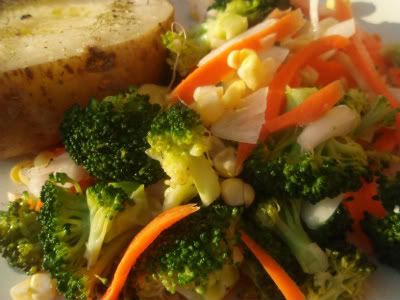 Ingredients
1 lg broccoli crown, chopped into florets
1 ear corn, shucked
1 lg carrot, peeled into thin strips
3 tbs red wine vinegar
1 tablespoons sugar
3/4 teaspoon celery salt
3/4 teaspoon dry mustard
3/4 teaspoon salt
1/2 teaspoon freshly ground black pepper
1/2 cup finely chopped yellow onion
Directions
1. Bring a large pot of water to a boil. Salt it lightly, add the broccoli and cook uncovered, stirring once or twice, until just crisp-tender, about 5 minutes. Drain, transfer to a bowl of iced water and, when cool, drain again and pat dry.
2. With a long, sharp knife, cut the kernels off the corn and transfer to a bowl. Add the broccoli, carrot, vinegar, sugar, celery seed, mustard, salt and pepper. Stir in the corn and the onion. The salad can be prepared to this point several hours in advance. Cover and refrigerate, returning it almost to room temperature before proceeding.
You can see a baked potato pictured on the plate with the salad, but the more exciting meal component was a Mediterranean "pizza" that I made and pretty much ate all on my own because it was so darn good and I just couldn't stop.  This is going to sound like a strange combination of flavors, and if you aren't huge on Middle Eastern food, it probably won't appeal, but I LOVED it, so there.  First off, take a look: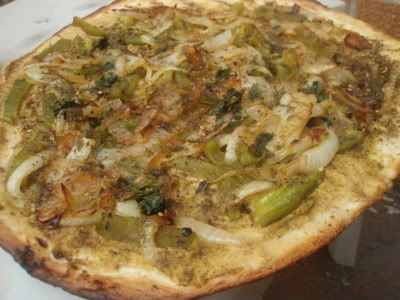 Looks awesome, right?  I must admit I didn't make the dough, this was a char-grilled prepared pizza dough that we picked up at the market, but it's all natural and tastes great, so I'm ok with this short cut.  Never mind how quick it is…and now for the toppings…
Ingredients
1 prepared pizza crust of choice
1/2 cup baba ganoush
1/4 cup green olive tapanade
1 cup caramelized slivered onions
1 green bell, chopped thinly
1 handful chopped green spinach
Zataar
Directions
1. Preheat oven to 450F. Spread the baba ganoush over crust as you would tomato sauce, and then add a layer of the tapanade over that.
2. Add onions, peppers, spinach, and a generous sprinkling of zataar.
3. Bake for 10 minutes, remove, and enjoy!
I won't lie, it does sound like an odd combo, but this was TOTALLY my thing…I'd do it with hummus instead of baba ganoush if that was all I had on hand too…I'm sure I'd like it just as much.  Along those veins, some grilled eggplant up on top would've been amazing, I just didn't have any this time around…
Selah.