Chicken Fried Seitan and Corn on the Cob
There are a couple knife blocks in my kitchen, and while the Chefs, pairing knife, and bread knife get used a few times a day, there is entire row that I almost never touch, and those are the steak knives.  When you don't eat steak, you simple don't need to saw into anything most days, and normally when I make seitan or tempeh it is either finger food or in small enough pieces to not require a knife.
Well last night's dinner changed all of that, and I must admit it felt pretty nice (and ok, maybe a bit primal) to need a knife again.  This is definitely a recipe I will be coming back to time and time again.  I got the basic recipe idea online, but tweaked as I went, and I suggest you do the same to taste….I also made use of some of the fresh herbs growing on my porch.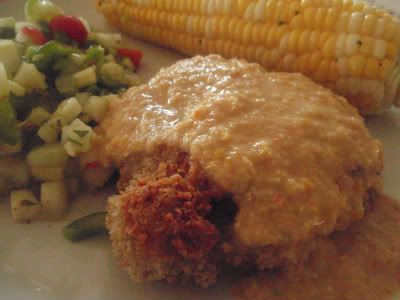 The gravy on top is the Jalapeno-Corn recipe from Veganomicon, always a favorite, especially when I've gor fresh jalapenos from my summer plant to put in it.  So here comes the seitan recipe, enjoy!
Seitan Steak Ingredients
4 cups Vital Wheat Gluten
1/2 cup Nooch (Nutritional Yeast)
4 tbs whole wheat flour
2 1/4 cups cold water
3/4 cup Braggs
2 tb Olive Oil
1 tsp Onion Powder
2 tsp Spike
1 lg clove minced garlic
1 handful fresh chopped parsley.
1. Combine all ingredients in a large bowl and knead the dough until uniform.
2. Pull fist-sized chunks off the dough and stretch them into flat patties. They won't stay really flat, but that's ok.
Broth Ingredients
2 tbs Vegetable broth base
2 tbs fresh parsley
2 tbs fresh chives
2 tbs tomato paste
1 tsp dried sage
1 tsp cayenne
1 tsp asfoetida
Approx 10 cups water
1. Combine stock ingredients, cover and bring to a boil.
2. Place seitan in the broth, bring to a boil, then reduce to simmer, cover and cook for 90 minutes. Remove and let cool.
To make the Chicken Fried "Steaks"
1 bowl Chickpea or White Flour
1 bowl with EnerG equivalent of 2 eggs, a couple cups soy milk, and a squirt of Braggs.
1 bowl breadcrumb mixture of choice. I used a combination of Panko, Whole Wheat and Italian Style.
Coat each seitan cutlet in the flour, then the egg/soy mixture, then the bread crumbs. Make sure to pack the crumb topping on thick.
3. Pur about 1/2 inch Canola Oil in a pan, and let it get real hot before adding the seitan. Cook on each side until golden brown and crispy.
I plan on frying up some more of these for "Chicken" Parm tonight…so basically the same recipe but over spaghetti and marinara instead of under gravy.  They're just that good…I'm craving them two nights in a row.
The corn was brushed with some Earth Balance/Lime Juice/S+P and then baked in the oven for ten minutes.  Nothing special, but good nonethless.  That's some serious down-home comfort food for summer.
Selah.