Simple Balsamic Pasta with Roast Veggies
There are two veggies I find go really well with balsamic vinegar….asparagus, and mushrooms.  I don't normally make them together, but this time around, I figured, hey, why not?  I was also craving carbs, so balsamic-oven baked veggies over pasta it was for dinner.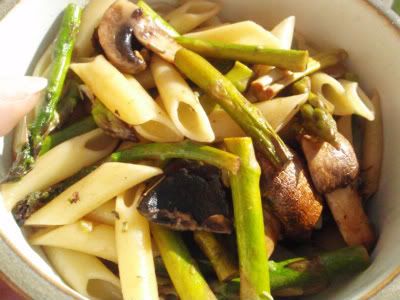 Ingredients
1 bunch asparagus, bottoms removed and cut into thirds
Approx 6-8 mushrooms, washed and quartered
1/4 cup balsamic vinegar
1/4 cup Olive Oil
1 tbs rosemary
S+P to taste
Pasta
Directions
1. Bring water to a boil for pasta, and preheat oven to 450F. Toss veggies with oil, vinegar and spices in a glass casserole dish.
2. Bake mushrooms and asparagus for 15 minutes while pasta is cooking.
3. Drain pasta, add veggies (hopefully with some extra balsamic) and stir to combine. enjoy!
There was also a ceasar salad going on, using this recipe for the dressing, and fresh romaine from the garden….yum!
Selah.