MooShoo Pancakes and Swiss Chard Risotto
Exhibit 1 that I have too much free time on my hands…I made myself risotto…for lunch.  It was really darn good, but I'm going to talk a bit about the mooshoo pancakes I made a couple days ago first.  This is the recipe from Madhur Jaffrey's World Vegetarian, although she calls them "Chinese stuffed pancakes".  I've ordered enough Chinese take-out in my life to know what these really are, not that I'm complaining.  I could not, for the life of me, get my pancakes anywhere near as thin as the ones that come with my take-out, but they still tasted good, so no complaints.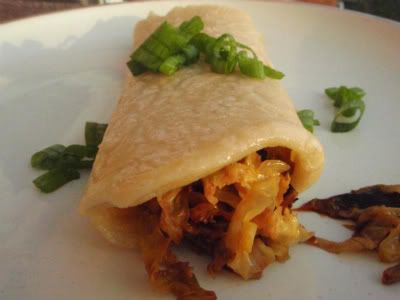 This recipe is really made by the hoisen sauce spooned over the wrap contents, so anything else is pretty optional as far as I'm concerned, you can pick your fillings of choice.  I happened to have everything that Madhur calls for in hers, so I followed instructions just this once.  It even gave me a chance to use some of the dried lilly buds that have been floating around my pantry forever.
Now that we've done that, we can talk a bit more about the risotto I just made for lunch…and how totally AWESOME it was.  I decided to make it because I had a huge bag of fresh produce from the garden…I put in a few hours of weeding help yesterday, and my efforts were rewarded with a HUGE basket of fresh veggies, including some fresh chard, which was screaming risotto to me…so that was what I did.
When it comes to risotto, I don't measure things, I just add liquid slowly until I'm happy with the texture of the rice, and then call it a done deal.  This was done totally off the cuff, and I have to say it certainly beat out those hot dog/sauerkraut sandwiches I was eating last week…although they were a lot quicker, and still tasty.
Approx 1/2 cup dry Arborio rice
2 cups Vegetable Stock
1/4 cup Sherry
1 tbs Chili-Hazelnut oil