Hot Dog n' Kraut Sandwiches and Falafel Pasta
I've been eating strange food lately…normal (or fairly normal) ingredients, but in pretty abnormal combos.  I'm not normally a dogs and kraut person at all, but I was having a craving earlier this week, and once I did it…I had to have it twice more in three days.
To assemble my little piece de resistance so to speak, I sliced the hot dogs 'almost' in half the long way (leave them still attached…I use Yves dogs, which hold together well, but another brand might not be so resilient)  And fried them up in a skillet giving them about 3 minutes on each side, flattened by another skillet and can of sauce.  The crisp is what makes this so darn addictive, I'm convinced.
In the meantime, I toast a couple slices of whole wheat, and then spread them lightly with mayo.  Once the dogs are done, they're placed on top of the bread and topped with a healthy dosing of the kraut.  So simple and yet so good…
And then there was the falafel I made the other night, before deciding I really didn't feel like eating falafel and tupperwaring it all away.  (yes I did just create my own verb).  The next night I was craving carbs, and when I opened the fridge I was confronted by the tupperware full of falafel, which were at the very least, shaped an awful lot like meatballs.  Turns out pasta with salsa instead of marinara, sliced spinach and falafel balls is REALLY good.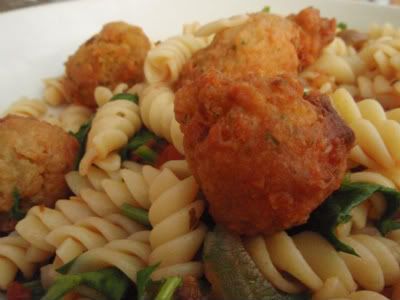 I liked it at any rate…but then I've been eating veggie dog and kraut sandwiches all week and loving them.  The falafel recipe was my standard from Joan Nathan's The Foods of Israel Today.  Probably never meant to be served up with pasta, but who cares?  I liked it.
Selah.