Carrot-Onion Au Gratin
You know what's really great about this recipe?  If you say it right, it kind of rhymes…and that makes me happy.  The other thing that makes me happy is how ridiculously easy and delicious it was…definitely one that will be going in the standard line-up, since carrots and onions are two veggies I pretty much always have on hand…everything else fluctuates.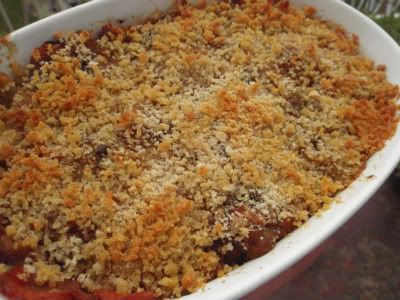 Doesn't it just look warm and inviting?  If you don't think so, you aren't looking hard enough, and I promise that if you give this a shot you'll like it as much as I did and want to make it again and again.  I made a pretty small portion (that casserole dish is on the palm of my hand in the picture) but you could do this in a much larger quantity with no real issues.  All my measurements are approximate, so take that into consideration when replicating.
Ingredients
1 med-lg onion, halved and sliced into half moons
2 lrg carrots, sliced thinly on an angle
1 tbs olive oil
1 tsp dried oregano
S+P
1/2 cup Panko
2 tbs rice flour
Splash Soy Milk
Directions
1. Preheat oven to 410F. Heat oil in a medium/small pot over medium-low heat, adding onions, carrots, oregano, S+P when ready. Cook until caramelized. (I literally forgot about these, came back half an hour later, and they were perfect…you may want to keep more of an eye on yours)
2. Add flour to veggies and stir quickly to coat. Add a splash of soy milk and stir again, so that everything is combined and there are no clumps of flour. This should still be thick, but appear saucelike not doughy in any way.
3. Pour veggies into your baking dish, and top with a layer of panko and drizzle of oil. Bake for 15 minutes, until top is golden brown. Allow to cool a bit before serving.
If there's anything this proves, it's that you can make au gratin (or at least my version) with pretty much any veggie…and I can't wait to continue experimenting.
Selah.