The post-computer disaster food round-up
First I went to Pittsburgh for a few days where I wasn't cooking, so there was no food.  Then my computer started doing wacky things…bad wacky.  It got worse and worse until it hit rock-bottom, became completely useless, and I had to wipe everything out and reinstall the operating system.  So that's my story and I'm sticking to it.
That said while I have everything I've made in the last couple weeks (saved since the pictures were on my camera) I really don't remember exactly what I put into them.  Sadly that means this will be a picture post and not terribly instructional…unless you'd like to reconstruct  from the pictures, and you're welcome to give it a shot.  And now that the computer is working again…I'll be back to regular posting and recipe-providing, don't worry.
First off, there was this leftover Mexican rice from Cinco De Mayo that no one was eating, so I figured that maybe if I breaded and fried it, it would become automatically more popular, especially dipped in salsa.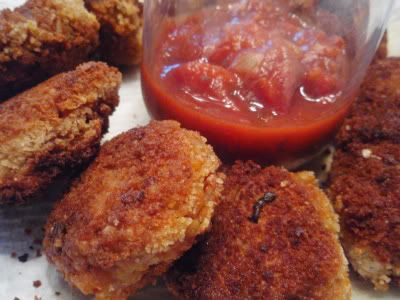 I was right about the appeal, while the rice had been sitting, a dozen of the rice "coquettes" vanished in about 10 minutes, because they were DARN good.  The crunch on these things was amazing.
Next up was a summery combination plate, consisting of some red-wine braised kale, seitan and mushrooms, oven-baked radishes with garlic, onion and "butter", and some fresh cut avocado sprinkled with lemon juice.  Nothing says summer like fresh avocado…although the kale and radishes were no slouch either.
Next up I did a riff off of the Corn Chowder recipe in Vegan with a Vengeance.  I don't remember exactly what I changed though…I do know my version came out REAL spicy which I was quite proud of.  I did skip the soy milk…I know it's the dairy that makes soup into chowder, but I was never a fan of real chowders, so I have no problem skipping that step and enjoying all the other components.  I'd also like to note that I liked this WAY better cold the next day…
Next is a quick little watercress salad that I whipped up with apples, golden raisins, a splash of red wine and a big bushel of GORGEOUS looking watercress I picked up at the farmer's market.  That's literally all that was in there, with the watercress added at the very end just to warm it up a bit but not let everything go limp.
I might've added a bit of cracked black pepper to the final product, but other than that I was in love with this salad…absolutely no complaints.
Since we're talking about salads, there was a quick ramen coleslaw as well since we were grilling the other day and that's a classic.  I used some Chili-Garlic Veggie Ramen, and mixed the seasoning packet in with some Shoyu, Rice Vinegar, Sugar and Sesame oil to make the dressing for the shredded cabbage and carrots.  Crumble the noodles on top and you've got an awesome slaw….way better than all that mayo soaked  stuff.  (Not that Ramen noodles are any healthier, but I much prefer the  flavor profile)
Last but not least in today's lineup was some mushroom ragu over spaghetti.  Other than a lot of rehydrated mushrooms and tomato sauce I can't remember for the life of me what went into this…I'd bookmarked the recipe I based it on, but of course I lost that along with most other things on the computer.  So in the case a picture will have to be worth a thousand words:
And there you are…hopefully it was worth waiting for and be assured I'll be back to my normal posting schedule now…recipes included…as soon as I figure out what on earth I'm making for dinner tonight that is…
Selah.