Shiso/Edamame Salad and a Creme Brulee Giveaway!!!
It's finally time for that review and giveaway that I've been teasing…but I'm going to make you wait just a bit longer while I talk a bit about this salad I put together last night.  The local farmer's market had it's opening day this weekend, and of course I had to make it out there for the festivities.  At this point, it's mostly leafy things and honey…so that was what I stocked up on, including some awesome purple Shiso…an ingredients I've wanted to lay my hands on for some time but haven't been able to find.  YAY Farmer's market!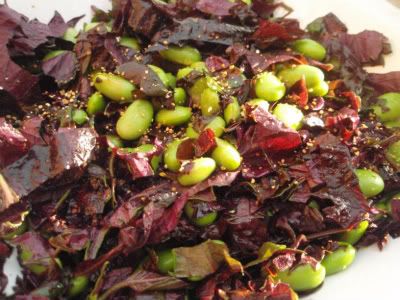 I used this recipe for the salad I put together, but replaced the lemon zest with granulated orange, and more or less reversed the amount on the edamame and shiso, seeing as a I had a huge bunch of the green and only about a cup of edamame.  This was a shiso salad with edamame in it…pretty darn yummy, and if you can get your hands on some shiso this spring, I highly recommend it.
And NOW for the moment you've all been waiting for!!!  I was contacted awhile back by CSN Stores (remember this link that I posted for their barstools site, and this one for cookware?) They've got tons of sites, but of course the cooking gadgets were most of interest to me, and when they offered to send out an item of my choosing for review and GIVE ONE AWAY TO MY READERS, I had to take them up on the offer.
Since it's something I've wanted to play with for a long time, and that I'm pretty sure any/all of you would enjoy, I went with the BonJour Chef's creme brulee torch, and along with the giveaway, I'm giving you my own personal recipe for creme brulee…finished off with the torch they sent me.
Ingredients
1 pkg Nori-Mu Firm Silken Tofu
1 tbs Pure Vanilla Extract
1/2 cup vanilla Hemp Milk (unsweetened)
2 tbs corn starch
3/4 cup raw sugar, plus extra for topping
Directions
1. Preheat oven to 350F. Combine all ingredients in a blender, and then pour into Creme Brulee ramekins. This recipe should make 4 individual servings, depending on the side of the ramekin. Put ramekins in a casserole dish and fill with water 3/4 of the way up the ramekins.
2. Bake for 45 minutes at 350F and then remove and refrigerate for at least two hours.'
3. To enjoy, sprinkle each creme brulee with just enough sugar to coat, and using your torch, heat until golden and crispy on top.
So are you ready to win your very own culinary torch and give this awesome (if I say so myself) recipe a shot?  I thought so.  The contest runs until this Saturday, May 8th, at 11:59PM, and all you have to do to win, is leave a comment.  Want an Extra entry?  Comment about the contest and link to my blog on facebook, or on your own blog…just send me the URL in a SEPARATE comment.
Good luck!!!