Potato, Corn and Avocado Chaat
I'm convinced that everyone on this planet has a shopping problem.  A lot of girls have a shoe problem  (I know some guys that have a shoe problem too).  Or a purse problem.  Many of my favorite people (including myself, I admit it) have a book problem.  But my biggest weakness?  Ingredients.  Whenever I'm out perusing in the ethnic markets and see an ingredient I've heard of and never tried, or even that I've never heard of OR tried…I NEED to have it.  I buy these things, fill my kitchen with their strangeness, and very seldom do they get used, which is why this was so exciting.
If you're a normal person with a adequately stocked kitchen, you will probably have to go shopping to make this recipe.  If you're me, you will find it out of the blue and happen to have all the ingredients.  Even so I made a couple changes because I wanted to, so here it comes, my version of Potato, Corn, and Avocado Chaat.  (Doesn't that just sound friendly, makes me want to gather some friends and have tea and cookies…or since it's Indian, Mango Lassi's…)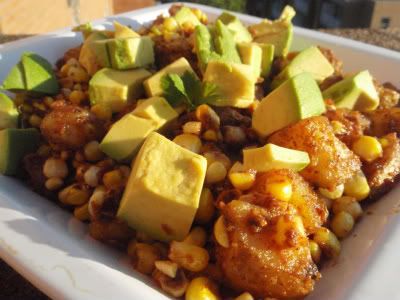 It's pretty too…which always makes me twice as excited about a dish, cause who wants to eat something that doesn't photograph well?  (I say knowing that my next post looks pretty bland but tasted great)
Ingredients
CHAAT MASALA
1 tbsp powdered cumin
½ tbsp fennel seeds
1 tsp coriander seeds
3 cloves
3 peppercorns
½ tsp ancho chili powder
½ tsp hot paprika
½ tsp ginger powder
½ tsp garam masala
½ tsp dried mint leaves
2 tbsp dried pomegranate powder
pinch of asafetida (hing)
2 tsp kala namak or black salt (preferred but you can use regular table salt)
POTATO, CORN & AVOCADO CHAAT
2 medium potatoes, boiled until fork tender, peeled and cubed
2 cups fresh corn kernels (frozen is fine, thawed and drained well)
1 large firm ripe avocado, cubed (Haas variety works well)
2-3 small red chilis, slit (to taste)
1 heaping tsp chaat masala
½ cup chunky peanut butter
salt & pepper, to taste
juice of ½ lime
2-3 tbsp mustard oil
Directions
1. To make the chaat masala, in a spice grinder, combine all the spices and grind into a fine powder. Store in an airtight container.
2. In a medium deep skillet or wok on medium high heat, add 2 tbsp of the oil. When hot, add the potatoes and chilies. Stir well to coat the potatoes in the fragrant oil. Let the potatoes get slightly brown and crispy on both sides. Remove and allow to drain well on paper towels.
3. To the same skillet, add a little oil if needed. When hot, add the corn kernels and let cook for about 3-4 minutes. Frozen corn kernels need maybe only 2-3 minutes. Next, add the peanut butter and the spices (salt, pepper and chaat masala). Stir well and let cook for a few more minutes until the corn is tender. Now add the potatoes back to skillet and carefully fold them into the mix. Add the lime juice and let cook for just a minute or so.
4. Transfer the entire mixture to a large serving platter. Add the avocado pieces and any other garnish you like, I put on a bit of fresh parsley from my spring garden. Serve with your favorite chutneys (I went with some cilantro chutney that I keep in the fridge)
I was going to serve this up over rice, but I'm actually glad I didn't make any because it really didn't need it….so much flavor as it was.   If I had to pinpoint my favorite thing about this, it was probably the cool creamy avocado mixed in with all the spices.  Then again I WOULD like that…I was always pushing aside the sour cream that came with Mexican food in favor of extra guacamole…same idea.
Selah.