Ginger Beef and a Sweepstakes Winner!
Since I had (and still have) all that "beef" seitan from Cinco De Mayo, I figured it would be a good time to try a classic dish like ginger "beef" that I wouldn't normally make, and it did come out pretty well.  I used this ginger beef recipe replacing the beef with thinly sliced squares of the seitan, and skipping the red bell pepper I didn't have in favor of doubling the celery and carrot called for.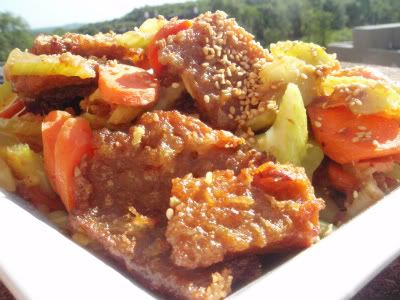 One thing I learned about deep frying seitan and then tossing it in sauce is that you have to eat up quick.  Once this gets soggy (and that happens pretty fast) it loses pretty much all its appeal, so if you make it, eat up!  I also replaced the ginger "juice" with a 100% ginger spread that I had in the fridge…it's something I bought awhile ago, and while it smells amazing, I discovered that it's just a bit too much on breakfast toast.  It worked perfectly here.
And now the reason you came…..I used the random number generator from Random.Org to pick a winner, but you'll have to give me the benefit of the doubt, because I couldn't figure out how to copy the image of the generator into the blog.  That said, the winner is…..Comment #1…Michelle from Yogini at Play, the torch will be coming your way soon…
That's all for me today, see you on the flip side!
Selah