Mushroom Cutlets and first BBQ of the Year!!!
So first things first, we dragged the hibachi grill out of the hall closet this weekend and grilled up some burgers!!!  By the time we got it outside and tried to start things up it was already getting kind of windy and cold out, but that didn't stop us…it had been sunny all day, and we were going to get some grill marks on our food, darn-it.  The burgers are the boxed black-bean variety from Gardenburger (what can I say, everyone takes the easy way out sometimes) but I did make the lemon-caper mayo I've been putting on my burgers for about three years now, and at my roommate's request, whipped up a batch of the Caribbean Potato Salad from Vegetarian Planet.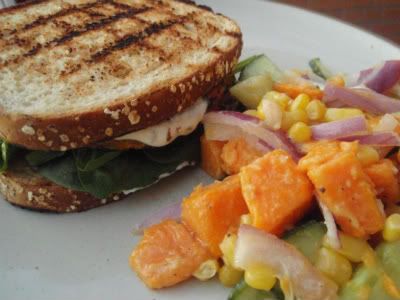 Forget the rest of that though, because while all good, the real impressive thing here is the grill marks on the bread.  That was all my roommate doing grill duty while I work on the garnishes, so I can't take any credit, but can she get a round of applause?  That bread looks awesome….I stuffed some baby spinach leaves in with my burger as well, just to round things out.  It's been gloomy and raining for the past 36 hours now, but I can't wait to return to the grill with the return of the warm weather.
I had to talk about the BBQ first because I was so darn excited about it, but these mushroom cutlets were actually from the night before.  I was thinking about the classic chickpea cutlets from V'con, but didn't have any chickpeas, and I remembered the mushroom burger recipe I'd come up with awhile ago.  I was thinking I could convert that into a nice and chewy cutlet recipe and I was right…these are delicious.  (Although they may not look terribly appetizing all cut up on the tortilla, I assure you they are)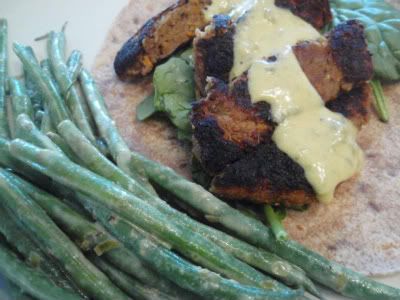 The french beans on the side are basically made with the recipe on the back of their wrapping, which was a vinaigrette of mustard, white wine vinegar, EVOO, capers, S+P, and  the leftover sauce is drizzled over the cutlet.  But back to the cutlets, since we all know that's why you showed up…
Ingredients
1.5 cups dried mushrooms of choice, reconstituted. I used a combination of shitakes and something else that looks like Oyster but isn't….I really wish I could read Chinese…
balsamic vinegar
1/4 cup nutritional yeast
2 tablespoons vegetable oil
1 cup vital wheat gluten
1 cup grated carrot
1 cup bread crumbs
Heaping spoonful minced garlic
1 cup water
Salt
Pepper
Chili flakes
Cumin
Mesquite seasoning
Directions
1. Combine all ingredients in a food processor, and pulse until completely combined. You want these looking pretty uniform.
2. Remove from food pro and form balls. Flatten the balls into 1.5 inch thick patties or cutlets (whatever floats your boat), and fry in the oil, approx. 4-5 minutes on each side.
In completely different news, my apartment is starting to look like a greenhouse.  since between my roommate and me we've got around 30 plants (yes, I said THIRTY, and that's not including separate seedlings of the same genus)  Some things are purely decorational (a variety of flowers, bamboo, and a money tree), but in terms of crops, we've currently got (I may forget one or two herbs): Lavender, Sage, Chocolate Mint, Chamomile, Lemon Balm, Spearmint,  Strawberries, Thyme, Tarragon, Parsley, Purple Tomatillo, Cherry Tomatoes, San Marzanos, Genovese Basil, Thai Basil (according to the packet, I think they lie, cause it's pretty big and neither purple nor basil-y), jalapenos, blueberries, Prickly Pear (which has already speared me about 6 times), beets, kholrabi and Swiss Chard.  (Although the last three are moving to a physical garden soon, to join my spaghetti squash which is already there. )  Talk about a harvest…
Selah.