More Matzoh Meals
I am SO sick of Passover food…you can put a big bowl of pasta in front of me anytime now and I'd be the happiest person on earth, but I've still got about 36 hours to go, sigh.  That said, I've got several Passover friendly recipes that I've made this week and have been pretty happy with.  Seeing as I've been eating the leftover of all three for several days I'll probably never want them again once the week is through, but that's just one of the casualties of the holiday.  One admission I must make is that on Passover I become very much an ovo-veggie, because if I had to give up all my carbs and protein sources and not have eggs, you'd just be scraping me off the floor with a spatula, so something has to give.  Eggs it is.
One recipe I found that looked pretty good with as an apple-matzoh kugel on Allrecipes. I did make a couple of changes to the recipe, so I can post my version, although at this point I'm betting no one will want to make any matzoh dishes until next Passover.  I must say though, the matzoh developed a suspiciously realistic "egg noodle" texture in this.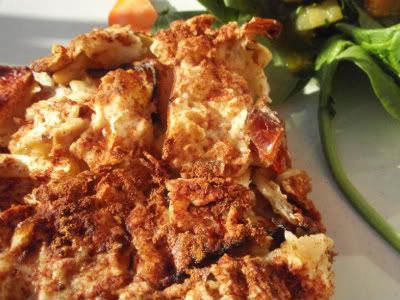 Ingredients
4 sheets matzoh, crushed
3 eggs, beaten
1/4 cup raw sugar
1 teaspoon salt, divided
1/2 teaspoon lemon juice
1/3 cup apple cider
3 Granny Smith apples – cored, peeled and chopped
1/2 cup dried dates
1/4 cup raw sugar
1 teaspoon ground cinnamon
Directions
1. Preheat the oven to 350 degrees F (175 degrees C). Place the crumbled matzos in a medium bowl, and add enough water to cover. Let stand for 2 minutes, then drain off excess water. Do not squeeze.
2. To the bowl of matzo, add eggs, 1/4 cup sugar, salt, lemon juice and cider. Stir to combine. Mix in the apples and dates. Spread the mixture evenly into a 2 quart casserole dish. Mix together the remaining 1/4 cup of sugar, and cinnamon; sprinkle over the top.
3. Bake for 45 minutes in the preheated oven, or until the top is golden, and the apples are soft.
I'm pretty sure you could replace the dried fruit in this with anything you have on hand, and I was even thinking that some rum-soaked raisins would add quite a bit if I had any on hand.  A pinch of nutmeg added into the mix would've done nicely as well.  If it wasn't Passover, you could do this with some Egg-re-placer or even Silken Tofu, I just really needed the protein this time around.  For a more savory application, I was even thinking of replacing the apples with butternut or sweet potato and onion…or perhaps adding those to the apple, which is a lot like one of my favorite recipes that I've posted about in the past.
Since quinoa is pretty much the only grain-looking thing allowable on Passover (I'm not entirely sure why it's allowable, but I'll take it), you know I had to try at least one quinoa dish on the week.
For once, I picked out a recipe and didn't mess with it, although perhaps I should have, because this was a bit on the bland side.  I got the recipe from here, and I must say that the olives in this really make the dish.  Apart from them, it was just a pretty standard quinoa application….no more radical than the quinoa-chickpea pilaf in V'con (which will always hold a place in my heart as my first quinoa experience, but it's nothing overly special).  There's lots of leftover parsley sitting around in my fridge (you can only dip so much in salt water during the seder) so I went to town a bit with the garnishing.
Last but not least, was a potato-leek soup.  I REALLY wish I'd taken a picture of the leek before cutting it up and blending it into soup, because this thing was serious.  Stood up on the floor, it came up above my roomate's knees.  When I saw it in the store, I couldn't resist the urge to give it a couple baseball-esque swings.  It was seriously bat sized.  I'm actually thinking it must be a leek kind of week, since it was also the secret ingredient on last  night's episode of Iron Chef.  (They didn't have any as big as mine though!).  Anyway….back to the soup.
Remember Morgan Spurlock?  That's the guy that ate nothing but Mickey D's for 30 months and saw serious effects on his health.  If you're like me you may even have done some sympathy hurling when he loses his lunch out the car window at the drive through one day midway through the experiment.  Well as you may remember, his fiance is a Vegan Chef, and I was excited to find one of her recipes to try out with my epic leek.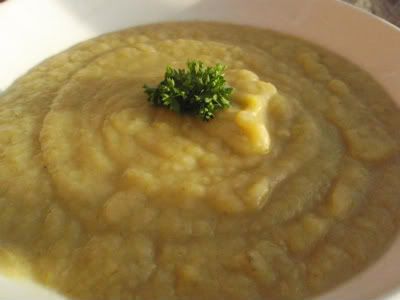 It's unfortunate how completely and utterly unappetizing this looks, but you have to believe me when I say this is SO good.  Maybe it's because I had to use normal chef's potatoes instead of the Yukon Gold's called for in the recipe, or perhaps it has something to do with how much leek I had…although my one may have been equivalent to the two the recipe called for.  I'm really not sure….Maybe the picture is fake…I'm going to go with that, since it would be really hard to sell with a picture like mine.  The recipe (which I followed to a T, just replacing her two leeks with my one giganto leek) is found online here and I highly recommend.   If you make it and can get your version to look like hers, PLEASE tell me how!!!  (I know it's not all about a book's cover, but I'm totally jealous.)
Also, this was another one of those recipes that reminds me of how much I LOVE my immersion blender.  That thing is seriously the most useful toy in my kitchen…and I just love that mine is fire engine red and stylin'.
One last night of Passover and then carbs here I come!!!!!!!!!!!!!!!!!!!!!!!!!!
Selah.