Matzoh Ball – Tomato Succotash
This is a recipe I lifted and tweaked from Susan V. over at FatFree Vegan, since it was already completely Passover friendly, and like pretty much everything else on earth, I figured it could only get better with matzoh balls.  (The only Passover food I legitimately enjoy).  I switched out pretty much all the veggies with the ones I had on hand in my kitchen (and to avoid the Lima beans, which aren't Passover friendly) and got together a Creole seasoning of my own.  You should definitely check out her original in the link, and mine follows the picture.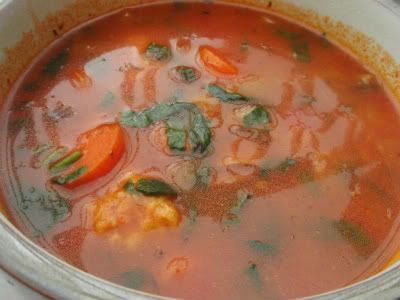 Ingredients
1 medium onion, chopped
2 teaspoons garlic, minced
1 bunch asparagus, chopped into thirds
2 carrots, chopped
1 large potato, diced, peel on
2 cups sliced button mushrooms
2 handfuls shredded baby spinach
1 28-ounce can chunky tomato sauce
1 tsp Zhug (Yemenite hot pepper paste)
4 teaspoons
Creole seasoning
Matzoh Balls made from your recipe of choice. (I go with the one on the back of the matzoh meal can)
7 cups vegetable broth
Directions
In a large soup pot, sauté onion until soft. Add remaining ingredients along with 7 cups of the broth. Cook until potato and other vegetables are tender, about 1 hour, adding matzoh balls with 30-40 minutes left. Check seasoning, adding more Creole seasoning and salt to taste.
I wish my picture was better on this one, because it simply does not do justice to how much I enjoyed this soup.  It's not exactly your traditional matzoh ball soup broth, but I just pretended they were dumplings (which is essentially what matzoh balls are) and to be honest I kind of like the tomato-ey flavor that they soup added to them.  Nothing like all your food groups in one on Passover too…when I normally get stuck eating a whole lot of spinach and dry matzoh with peanut butter.
Selah.