Italian Vegetable Soup and Maple Mustard Baked Veggies
I made a soup that was in the grocery circular…and it was ok, but nothing special.  Here:
Tomato Sauce, broth and lots of veggies was the name of the game…it would've been better with some fresh breadsticks or something to dip.  It's also getting  a bit warm for soup, so maybe that's why I was underwhelmed too.  In much yummier things, I decided to bake up the vegetables rolling around in my veggie drawer yesterday, and for an on-the-spot combo of flavors, this was pretty darn delicious, not to mention good lookin'.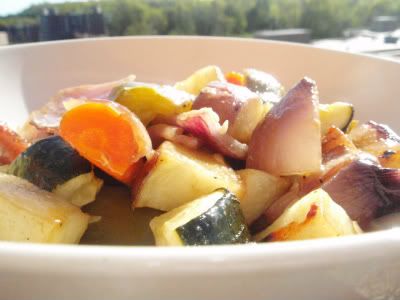 I didn't make any measurements, but I can give you a general recipe for what I did….unlike baking, I don't think a bit of variance will kill anything here.
Ingredients
1 lg red potato, cut into large cubes
1 red onion cut into chunks
1 green pepper, lg. chop
1 zucchini, halved the long way, halved again, and chopped
2 carrots in a large chop
Approx. 1/4 cup Maple Syrup
Heaping Spoonful of spicy mustard
Approx. 1/4 cup Mustard Oil
Salt to taste
Directions
1. Preheat oven to 380F. Combine all liquid ingredients in a bowl with salt, and drizzle over veggies in a glass casserole dish.
2. Toss to coat, and then bake for one hour, removing halfway to toss. ENJOY!
You can obviously trade these veggies out for any that you like or happen to have on hand.  I went with what was in the fridge…  Parsnips would be delicious, as might beets, sweet potatoes, etc…  A little OJ might add some nice acid, although I was happy with these the way they were…
Selah.