Breaded Veggie "Casserole" and Chorizo con Papas
Sauteing things on the stove top is definitely the quickest way to cook, and lately I've been doing a lot of that, but the other night I was in the mood to oven bake SOMETHING, and came up with this recipe on the fly.  I was actually thinking loosely of the chickpea-broccoli casserole from VWAV, but without beans, came up with a lighter, less held-together version, with a bit more of a kick.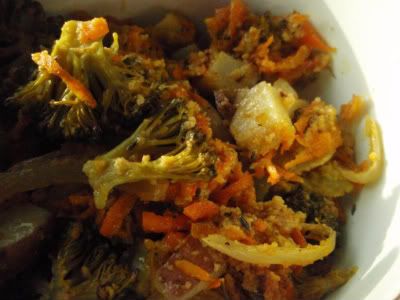 Ingredients
3 crowns broccoli chopped
3 red potatoes, cubed and unpeeled
3 lg. carrots, shredded
1 onion, halved and sliced thinly
1/2 cup whole wheat breadcrumbs
2 tbs Olive Oil
1 tsp cayenne
1 tsp paprika
1 tsp Marjoram
1 cup Veg stock
Generous Grind S+P
Directions
1. Preheat Oven to 350F. Combine all Ingredients in a large bowl, and toss to coat with breadcrumbs. Pour into a greased glass casserole dish and flatten top.
2. Cover with foil and bake for 45 minutes before removing foil and cooking for another 15. Allow to cool until bubbling stops before you serve. (Not totally necessary if you're a member of the burn-off-the-roof-of-your-mouth school).
In retrospect, Adding a bit of tomato sauce to this might have been delicious…or even some salsa drizzled over the top before cooking.  I guess I was just looking for that bit of acidity and sweetness that every dish should have….or maybe I was just craving eggplant parm in some underlying way and wanted to make this dish more like that.  It happens…
Back to the stovetop, and I made something completely new to me loosely going by the name chorizo con papas, because that's what came up half a dozen times when I googled chorizo.  That's right…chorizo.  I picked up an awesome looking "link?" of soy chorizo at Trader Joes the other day, and couldn't wait to cook with it although I had no clue how to use the thing.  I considered making it into burgers, but the main ingredient was TVP and I've long ago given up on getting TVP burgers to stay together.  So after checking out a few recipes for the basic idea, I went the Chorizo and Papas (potatoes) route.  It was seriously red…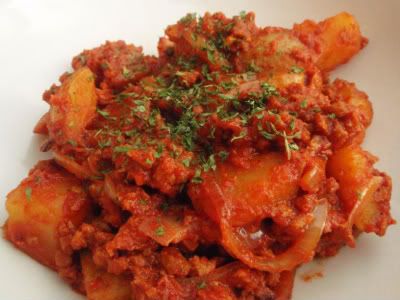 But also seriously delicious.  While I'm not normally big into buying fake meat products, everything in here is all natural and can probably be found in my kitchen, so I don't feel bad about it, and it did taste darn good.  Nothing wrong with the recipe either…this is something I'll be doing again.
Ingredients
1 link Trader Joes Soy Chorizo Sausage (or any Soy Chorizo you find near you)
4 medium Yukon Gold Potatoes, scrubbed and cubed. (You don't need to peel Goldens!)
1 medium onion, halved and sliced
2 cloves garlic, sliced thinly
1/3 cup pureed tomatoes
1 cup chunky tomato sauce with basil (mine comes with basil, you can obviously add some on your own if not)
2 tbs Olive Oil
Directions
1. Cover the diced potatoes with water and boil until you can pierce them with a fork. Oil a large skillet, preferably cast iron, and once potatoes are soft enough, drain them and toss into the oil over medium heat, spreading out as much as possible. Allow to crisp 5-6 minutes on one side, then flip and brown up on the other.
2. Add onions, garlic and chorizo, tossing to mix, and cook another 3-4 minutes until onions are starting to sweat and you can smell the garlic getting a bit toasty.
3. Add tomato sauces and mix everything to combine. Turn heat down to medium-low, and allow to simmer until sauce has thickened to evenly coat the vegetables and everything looks pretty uniform. Serve with a bit of fresh or dried parsley…fresh is always preferable, but in this particular instance I only had dried. It happens…
While this made a great dinner, it occurred to me  that it would also make an awesome breakfast over a plain tofu scramble…no need to flavor the tofu, when there's this much flavor working through the topping.  I did miss something green though…perhaps you'd want to wilt some baby spinach into the tofu….then again, maybe you'll just want to eat a big bowl of this alone as I did last night…it's just that good.
Selah.