Book Winners, Cookies, and an Upcoming Review
First off, receiving a copy of Etre the Cow, are Sarah and Vanessa…both of you are getting an email from me asking for your mailing address, so that I can get that off to the publisher ASAP and get your copy of the book out.  Thanks for commenting with your favorite books as well, they'll definitely be added to my reading list.
On that note, I just wanted to tease you a bit, because I've got another Review and GIVEAWAY coming up soon!  This one is for a kitchen toy that I've wanted to own forever, and if you click on THIS TOTALLY SUBTLE LINK —>>>>>home bars<—-(not spam I promise, they have tons of cool kitchen toys at their partner sites like www.cookware.com at very reasonable prices) you can check out all their awesome toys and try to guess which one I'll be reviewing and giving away to a lucky reader.  (Feel teased yet?).
Last but not least, some food…because that is after all what this blog is all about.  The first one is an old favorite, and that's my zucchini "spaghetti".  I cook the zucchini strips down until they're more flexible than spaghetti, and douse in sauce…never disappoints.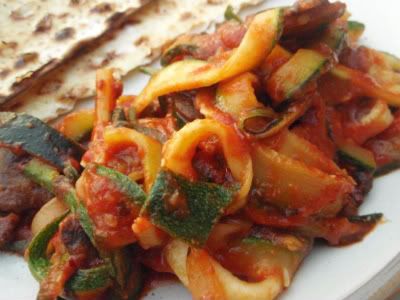 And now I know I'm months behind on this one, but I FINALLY got my copy of Vegan Cookies Invade your Cookie Jar, and made my first cookie.  I went with the sell your soul pumpkin cookies, and while I don't think I'd sell my soul for them, they were pretty good.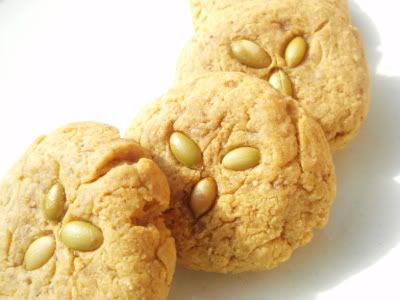 This may be user error, but I did feel that these were a bit over-spiced…you could definitely catch the nutmeg and cloves in them, and they were stronger than I generally like.  I tried to measure out the spices, but I'm never overly exact with these things, so I won't place any undue blame on Isa and Terry before I give these a second shot.  They're certainly not bad anyway, although I also wish they had crisped up a bit more, these do remain a fairly cakey cookie, no matter what the recipe says.  Not bad for my first run with the book though…it's got my sweet tooth craving more!  (oh and ps, I switched out the soy milk for almond milk, worked like a charm)
Selah.