Curry Tofu and Mushroom Stoup and Toori
This "stoup" make actually be my favorite Rachael Ray recipe that I've made…but I shouldn't say that, because I seem to remember really enjoying some at some point.  Instead we'll just say that it's my favorite for this week. I did make a few changes as well, so who knows, perhaps the original isn't even as good.  (Of course it wouldn't be, since she uses CHICKEN)  Anyhow, I served this up with some spiced pita to soak up the broth, and it was well enjoyed by all.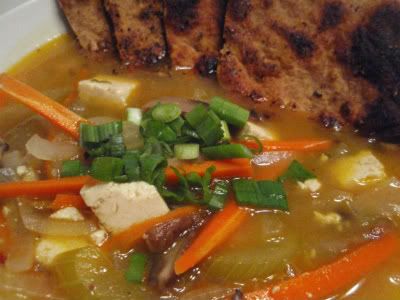 You can find the original recipe on the Rachael Ray Show website, and I've pasted it with my changes below.
Ingredients
* 1 block tofu, cubed
* 1 fresh bay leaf
* 1 onion quartered and thinly sliced
* 1/4 cup EVOO – Extra Virgin Olive Oil
* 4 portabella mushrooms, gills scraped, halved then thinly sliced
* 2 carrots, peeled and sliced into 2-inch matchsticks
* 2 to 3 ribs celery, thinly sliced on an angle
* 1 2-inch piece ginger, peeled then grated or minced
* 3 to 4 cloves garlic, finely chopped
* Salt and pepper
* 3 tablespoons mild or medium curry powder
* 1 quart Vegetable stock
* 1 cup mango chutney, or in my case a combination of Ginger Jam, Mango Salsa, Plum Sauce, Hot Chili Sauce and Vinegar adding up to 1 cup.
* 3 tablespoons Earth Balance
* 2 tablespoons flour
* 4 scallions, whites and greens thinly sliced
* Pita or bread of choice for dipping.
Preparation
Place EVOO in a large soup pot over medium-high heat. Add mushrooms and tofu; brown 10-12 minutes. Add carrots, celery, sliced onion, ginger and garlic to mushrooms and cook 5 minutes more, to soften. Season with salt, pepper and curry powder. Add stock and stir in the chutney. Adjust salt and pepper to taste.
Melt Earth Balance in a small skillet. Whisk in flour and cook 1 minute. Whisk roux into soup pot, let simmer and thicken, 5 minutes.
Serve stoup topped with scallions and pita for dipping alongside.
Since I'm on an Indian theme, I'd like to share something I picked up at a very exciting huge Indian Supermarket nearby here.  It's called a TOORI, and it looks kind of like  an english cucumber with okra-ridges.  It's huge, and I wish I'd taken a picture, because I can't find one of it in its uncooked state on Google image.  I used the recipe here, obviously using a ridged toori not a smooth one.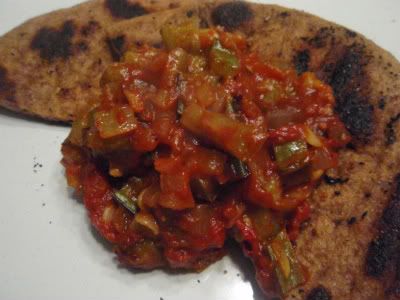 This basically came out tasting like a rather fulling salsa with faintly Indian flavors.  It IS pretty good…but I see nothing that makes the Toori more exciting than zucchini for instance, unless you're talking about its looks.  Oh well…
Selah.