Clementine Baked Beans over Tomato-Caper Couscous
I scored a really awesome cookbook from a really awesome friend recently, and although at first I thought it was a bit late for slow cooker recipes…I've changed my mind.  There's nothing wrong with a little slow-cooker action in early spring, and to be honest it doesn't give off nearly as much heat as the oven or stovetop, so it may even be good for the summer.  The book is called Fresh from the Vegetarian Slow Cooker, and while I've leafed through a lot of Vegetarian slow cooker books in my time, I think I like this one better than most.  My baked beans were based off of a recipe in the book called Orange and Bourbon Baked Beans but made a number of changes to suit the contents of my own pantry a bit more.  You can see it served up over the tomato-caper couscous from V'con here:
And the recipe I ended up making follows, although you may want to wait till next winter for your own batch of baked beans…that's a personal preference thing though.
Clementine-Rum Baked Beans
1 tablespoon olive oil
1 yellow onion, chopped
15 ounce can chunky tomato sauce
1/4 cup dark molasses
2 tbs cider vinegar
1 tbs dijon mustard
1 tbs tamari
3 cups cooked white beans
1/4 cub coconut rum
juice of two fresh clementines
Directions
1. Heat the oil in slow cooker over high heat, and cook until softened.
2. Add all the other ingredients to the slow cooker, and cook on low for approx. 6 hours. Enjoy.
And since extra food porn is never a bad thing, here's another pic of that couscous all on it's own: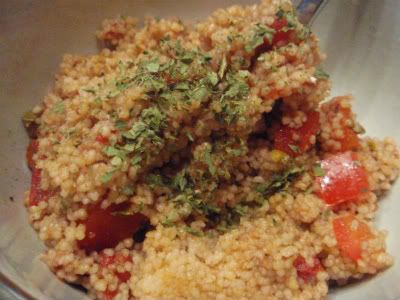 I went a tiny bit overboard with the allspice, but otherwise this wasn't bad…a nice simple side-dish is always a good thing to have in the arsenal, and anything with capers in it tends to be a favorite of mine.  V'con strikes again!
Selah.