This is why I don't cook out of Vegetarian Planet…the Post.
Vegetarian Planet is a great looking cookbook with a lot of great looking recipes…that's why I bought it way back when.  However, the more recipes I've made from it, the more I've discovered that on the whole they are bland and unimaginative, and a lot just plain don't work the way they're supposed to….case in point, the calzone sized perrogies that I didn't photograph earlier this week.  The book said to use pizza dough, and it should've occurred to me that they'd explode when they hit the boiling water.  But that aside….  There was stuff I did photograph from the book this week.
First off was the Dirty Rice.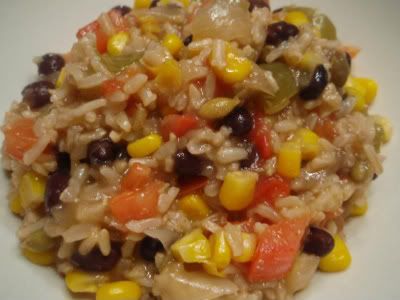 I used brown rice, but otherwise kept to the original recipe and wasn't impressed.  It was fairly bland and unexciting, and I wasn't real happy with myself for buying the frozen corn, when as a general rule I try to (more or less) stick with produce that SHOULD be available where I am this time of year….it isn't corn season.  That said I mostly ended up picking the sweet kernels out of the rice and leaving everything else behind…not a great sign.  I wouldn't bother doing this again….unless it was seriously jazzed up, but in general, I think I prefer a paella or something along those lines.
Also from Vegetarian Planet this week was the "buttered broccoli" which was just that.  Or Earth Balanced Broccoli really, but it's all the same.
A single head of broccoli cooked in brown butter wasn't dinner in my eyes, so I tossed it in with some pasta…not fascinating, but it tasted good, so we'll call that one a success.  I'm not sure why I needed a recipe to cook broccoli in butter and lemon juice, but considering I haven't done it before, I guess I can see the prudence in including one in a book.  I probably won't be doing it again though, it certainly wasn't good enough to warrant eating a 1/4 cup of fat with my carbs.  Oh Vegetarian Planet, I had such high hopes for thee, and again and again they are dashed…
Selah.