Random Eatings
I was in the mood for some good ole sausage and peppers the other day, and went back to a classic Vegan Dad Recipe for sausages.  I replaced the Pinto Beans with Cannolini, and basically threw in half my spice rack, but other then that I stuck with the original.  While the sausages were steaming I sauteed some onions, mushrooms and peppers in a bit of olive oil with S+P.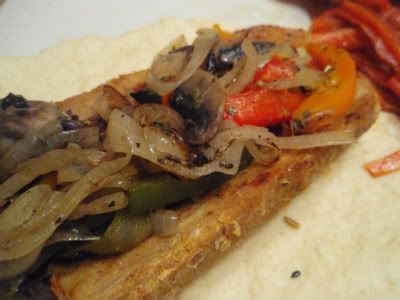 That's actually the sausage that the onions peppers appear to be IN, I cut it in half without going all the way through and then fried it up a bit on each side for crispyness.  I then set the sausage on top of a homemade pita (STILL can't figure out how to make a pocket) and rolled it up to enjoy.  Always a classic.
In a more creative vein, there was the crispy tofu millet.  I actually started out with the sole intention of finding a way to use some of the POM I was lucky enough to receive from the folks at POM Wonderful recently, and for some reason the thought of purple pomegranate flavored millet appealed.  Well apparently I didn't use quite enough POM to turn the Millet purple, but the recipe actually turned out delicious, with all the flavors tying together nicely.
I actually tried to go with some classic flavor ideas here, making sure that I covered my sweet (POM) Salty (Veg Stock) Sour (Lemon-Pepper Tofu) and Umami (Braggs, Sherry).  I was worried it would be way too much and the flavors would just battle each other into oblivion, but I actually REALLY liked this, and would totally make it again.
Ingredients
1 head broccoli cut into small crowns
1 cup Millet
1 onion in a large dice
1 block tofu, pressed for at least 30 minutes and diced into blocks
1/2 cup POM Juice
1.5 cups Veg Stock
3 tbs Braggs Liquid Aminos
Splash Sherry
1 tbs Lemon Pepper
2 tbs Canola Oil
S+P to taste
Directions
1. Preheat oven to 400F. Toss cubed tofu with canola oil, lemon pepper and salt until coated. Bake for twenty minutes, open to flip, and cook another 20 minutes.
2. In the meantime, heat some oil in a medium saucepan and add the chopped onion along with S+P. Cook until translucent, then deglaze with the Sherry and add the millett. Toss to coat in oil and combine, then add the broccoli, stock, POM, and Braggs. Once contents come to a boil, lower heat to low and cover. Allow all liquid to cook off.
3. If you've timed things right, the tofu and millet should be done around the same time. If you're me, the tofu has been sitting out for ten minutes…but that's ok.
4. Taste Millet for doneness. If it is cooked to your satisfaction, then you can add the tofu, toss to combine, and enjoy!
Now no savory use will ever beat my favorite use for POM (Pom-Vodka Martini anyone?) but I really did enjoy this…It's just got a real flavorful warm-belly feeling going on…