Pomegranite Tofu, Black Bean Burgers and Cretan Stew
The Black Bean burger from V'con is an old favorite of mine that I hadn't done in awhile, and when I was poking around in the pantry the other day and saw a few cans of black beans, I knew what I had to do.  My favorite part of these is actually how well they freeze for a quick lunch on a busy day.  An added bonus was that we had fresh guacamole in the fridge, so I knew exactly what I'd be topping my burger with.  I'm really big on burger "bagles" instead of using buns, and this one went on a poppy.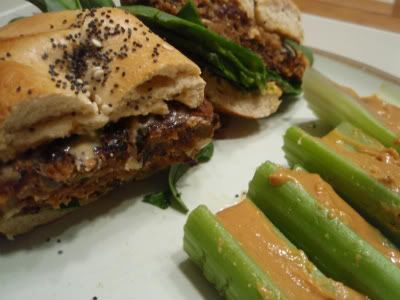 Some homemade spicy mayo (chili sauce and Nayo went on the bagel along with baby spinach and the guac.  All the contents tried to fly in every direction when I went to slice the burger in half, but I think I made a decent save.  I ate my burger with one of my favorite snacks of all time….peanut butter filled celery sticks.  These are even better with raisins (who else remembers ants on a log?!?!) but I was unfortunately out this week and had to forego.
Now if you've been reading for awhile, you'll know that I've attempted the Pomegranate tofu from VwaV before, even though I couldn't find the pomegranate molasses and had something of a liquid smoke incident.  I was at the new Whole Foods the other day, and out of the corner of my eye, spied something REALLY EXCITING!!  They had pomegranate molasses!  Well I knew what had to happen, and so I gave the pomegranate tofu another try.
I simply could not get a good picture of this, so you'll have to believe me when I say that it was AWESOME.  I had it over some leftover plain brown rice that was rolling around in the fridge, and although they aren't pictures, I steamed some simple veggies on the side and tossed them in the little sauce that was leftover.  I'm actually thinking that I'll make a massive batch of this and bottle it to use as BBQ sauce on umm….EVERYTHING because it's just that good.  I must confess to using chunky peanut butter in here, simply because I don't keep smooth around, why go boring when you can have great?  (ok, maybe because it makes chunky BBQ sauce….but details!)  Just thinking about this my mouth is watering though….seriously.
Last but not least, I had to give the cretan stew from what the hell does a vegan eat anyway and I was not disappointed.  I think I went with a bit too full-bodied a red wine, but it's what we had in the fridge and the price was right (free!) so I really can't complain.  I used the simple seitan recipe from Veganomicon since it's my old standby, and was absolutely shocked by how flavorful and savory it became soaking with the wine and juice in the oven.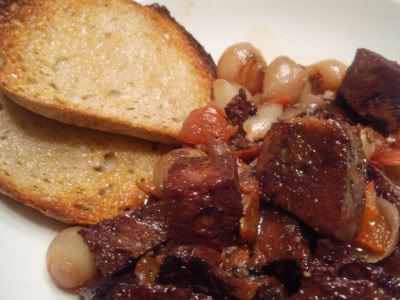 This recipe is not for the faint of tastebuds since it packs some serious punch flavorwise, but I loved it.  I toasted up some bread alongside this to soak up the juices and was quite happy with the meal as a whole.  I think part of the reason I love it so much may have something to do with two of the ingredients; namely the pearl onions and wine, which is a traditional Thanksgiving favorite in my family.  Seitan certainly isn't on the menu since everyone else goes with Turkey, but I could see making this for myself next year and getting everyone else to try a bite.  The orange doesn't hurt either.
Selah.