Diet, Dessert and Dogs…times 3
So one of my favorite Vegan Blog reads is over at Diet, Dessert n Dogs where pretty much EVERYTHING pictured looks absolutely mouth-watering, and makes me want to eat it NOW.  This week I decided to give a few of the recipes I'd been lusting after a try, and wasn't disappointed, although one was a bit WEIRD.
The first was the Indian Inspired- tomato okra from awhile ago.  You can find the recipe on the blog here and make it for yourself.  I think I let my okra get a bit more cooked then necessary, I would've liked to have had them more on the al dente side because of that slime factor.  Okra is one of those foods I don't have any real issue with, but I don't normally seek out either, I eat it when it's offered to me and forget about it the rest of the time.  So why did I NEED to have it when I saw this recipe?  I don't know…but I did.  It took three separate grocery stores to find, since apparently it isn't okra "season" but I finally got it, and got cooking.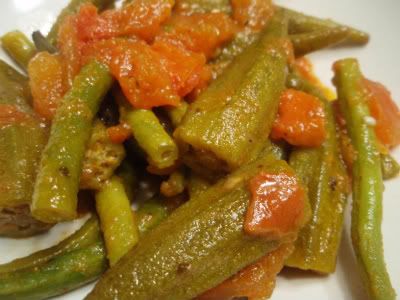 I really did love the flavor on this, I just wish the okra had been "stewed" so to speak a bit less.  I will try it again once the weather warms up and okra appears at the farmer's market (at least I hope it will) and try to leave my veggies a little more on the al dente side.  The mixture of green beans and okra was nice too, since theyre similiar but it does mix up the textures a bit.  Thumbs up.
Next I tried out the Creamy Creole Eggplant Pasta Bake, which originally came from Susan V over at Fat Free Vegan but I have to admit my rendition much more closely resembled Ricki's.  I did switch out the crumbled nuts for plain ole' breadcrumbs on top, because sometimes I like to stick with easy like that…and yes, mine did come out of a container.  Even so, this recipe is AWESOME, possibly one of the best things I've ever done with pasta.
Here's the whole casserole: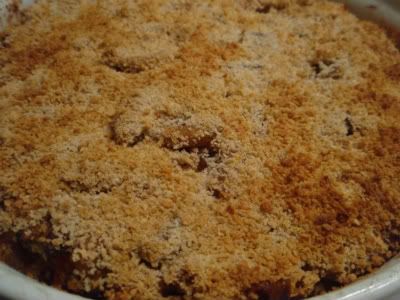 And another one of my serving in the bowl after I've dug in: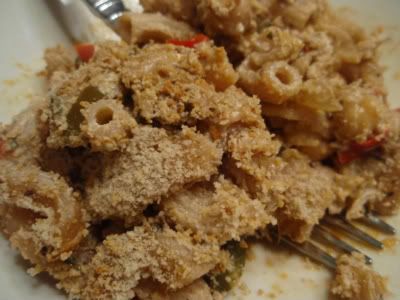 I couldn't even taste the eggplant here, frankly if I didn't make it, I would never believe that there's an entire (moderately sized) eggplant in the dish  I was a huge fan of the zucchini in there, although I did feel the chickpeas are a bit out of place.  Perhaps if they were softer they'd blend in more, I always feel like goya chickpeas have a bit of a bite to them.
Last but not least, was the Crimson Mousse, which I was just plain intrigued by.  I'd never even heard of Chia seeds before I tried this recipe, but once I saw it, I had to have them (kinda like the okra) and set out on a search.  The search brought me to a Co-op that I didn't even know existed about an hour away, but I FOUND the chia seeds, and it was time to try out the recipe.  I replaced the Stevia with Agave which may or may not have made a huge difference, but Stevia is not something I stock in my kitchen.  I don't have any particular issue with it, I've just got enough sweetening products between Raw Sugar, Brown Sugar, Honey and Agave and don't need to add another.  So anyway…back to the recipe.  Mine wasn't going to look nearly as pretty as the original, but I did what I could.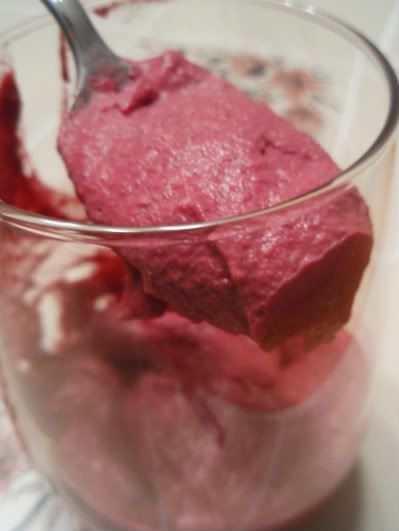 I just don't know what to make of this.  Maybe I used too large a beet, but I could taste it in there, and that to me seems wrong in a dessert.  I also think I went a bit heavy with the almond extract, so this tasted kinda like a marzipan beet, and while I used to really like the fruit shaped ones, I think veggies are a bit wrong.  I'm eating this….but I'm just not so sure about it…and I don't think I'd do it again.  They can't all be to my taste…
Selah.