Not Israeli-Israeli Couscous and a FRESH Ragu
I've made a lot of couscous in my time, and eaten a lot too, but ironically the only kind I don't like is "Israeli" Couscous, and by that I mean the kind with the huge chewy pearls that remind me of a cross between tapioca and millet…not really a plan.  Then again, as I see it, I've been eating Israeli couscous recipes my entire life, so any couscous dish I make is "Israeli", regardless of the grain size.  This one came from Joan Nathan's 'Foods of Israel Today' which has some great recipes….I just don't pull it out nearly enough.  The basic idea with this one is chop up and include every veggie you can think of (chickpeas, zucchini, acorn squash, eggplant, carrots, cabbage, celery, onion, potatoes) and cook up in some Veg stock with turmeric, salt and pepper.  Add the couscous towards the end so it can soak up all the extra liquid and combine with the other flavors.  Done.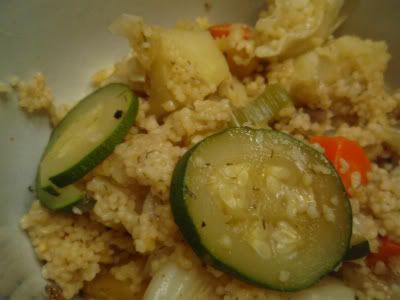 Now this recipe was supposed to make 12 servings, and I halved it.  Frankly I'm pretty sure I still came up with about 12 servings.  Tomorrow's tupperware-full for lunch will be the eighth eaten (4th for me, fortunately I've had some help) and there's still more in the fridge.  While simple (once you get past the three billion ingredients) I'm really into the flavor on this dish.  It is sweet and fairly mild, and when enjoyed just after cooking gives you that fuzzy 'warm belly' feeling that all good foods should this time of year.
Then there was ragu.  Now I made a ragu recipe that was not mine a few weeks ago and posted about it here.  I also remember it tasting good but not looking so great…it had a very "brown" thing going on that I wasn't a huge fan of.  Colorful food tends to make me happier.  Well problem solved, and this recipe is colorful, fresh, delicious, and my very own creation.  Not only that, but I bet it will be ten times as good when I make it using my own grown-at-home produce come summer.  The basil in here came from my plant,  but unfortunately everything else is from the store.  DARN YOU New England winters.
Ingredients
1/2 eggplant, diced into 1/2 inch cubes
1/2 lg. zucchini, diced
2 handfuls cherry tomatoes, halved
1 medium onion, diced
Handful fresh basil leaves, cut in a chiffonade.
1 tsp garlic powder
S+P
1/2 cup prepared tomato sauce.
Directions
1. Heat your favorite skillet over medium heat, and add non-stick agent of choice. Add all the veggies except basil, and cook, stirring occasionally, for five minutes, until thins are starting to soften.
2. Add basil and sauce, stir, and then cover, turning heat down to medium low. Allow to simmer for at LEAST 15 minutes.
3. Serve over pasta of your heart's desire!
Now wasn't that simple?  Yummy too, I could go for another helping right about now.
Selah.