Garlicky Kale with Tahini Sauce and Tempeh Potato Hash
So the other night I decided to try out a VWAV recipe that I'd been eying…the garlicky kale and tahini sauce.  I am absolutely IN LOVE with this tahini sauce, and totally intend to make use of it with my next batch of falafel, but I just wasn't as excited about the kale.  My kale got a bit burnt because there was no liquid in the recipe, and frankly, crispy kale just isn't my thing, I like it wilted down and a bit juicy.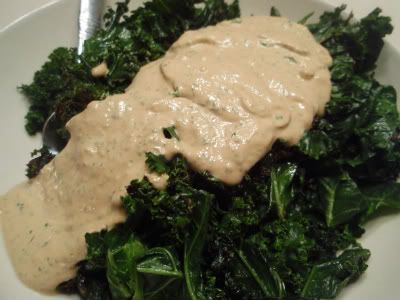 Final analysis?  The sauce is a win, but the kale is probably not something I'd try again.  50/50 are pretty good results on a first time recipe as far as I'm concerned.
The second thing I made I could've sworn I'd seen in VWAV, but upon looking, I couldn't find it in the book, so I guess this did come out of my head.  (more or less)  This was a tempeh potato hash, combining diced potatoes and onions, crumbled tempeh, braggs, rosemary, garlic powder, S+P until nice and crispy.  Like every other hash this is way better with ketchup or salsa, and it's not nearly as sketchy as that corned beef hash disaster that comes in a can.  Much better for you too….
Selah.