A Little of Everything
So I keep meaning to get back to posting daily…and it just isn't happening.  I still love cooking and taking pictures of the food I make, it's just the actual posting that I'm getting bad at.  I will fix it though…I PROMISE.  Don't lose hope.  A lot of the food I've been making lately is old favorites like plain steamed edamame and the Punkrock Chickpea gravy from VWAV.  You've all seen that, and there's no point in posting about it again.  I have done some new stuff of late though, so this will be a round-up of all the good stuff I've made over the past week and a half or so.
I'm sure I've mentioned it before, but lentils are one of the foods I just can't stand.  I find the texture to be chalky, and bland, and just plan icky.  Unfortunately because I used them in the soup mix I gave out as gifts this year, I had a bunch leftover, and figured I should give them another shot.  The flavor on this was dead-on, but I still can't get over the texture.  I'll just never be a fan.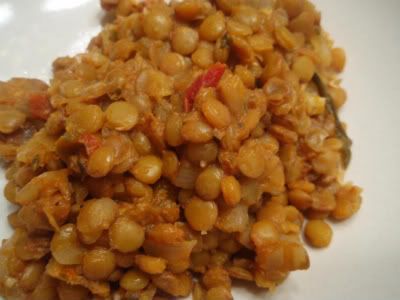 Ingredients
1 cup brown lentils
2 cups veg. stock
1/2 cup medium heat salsa
2 tbs dijon mustard
1/2 lg onion diced
tbs basil
tbs garlic powder
tbs Oregano
tbs Cumin
2 drops liquid smoke
2 Bay Leaves
Directions
1. Preheat oven to 375F. Combine all ingredients in a 9×13 glass baking dish and cover with foil. Cook for 1 hour and 15 minutes.
2. Remove from oven, uncover, stir, and let cool for at least 5 minutes before serving.
It saddens me that I really did like the flavor on these…but I can't get over that chalky lentil texture.  Anyone got any tricks for disguising that texture?  Lentils are so healthy, I'd really love to get them into my diet on a regular basis…
And then there was the oven-roasted tofu and eggplant with pesto, which was pretty delicious if I say so myself.  I'm almost out of the frozen pesto cubes I made back in the early fall, so it may be time to harvest my basil plant again, now that I know it's pretty adept at growing back from almost nothing.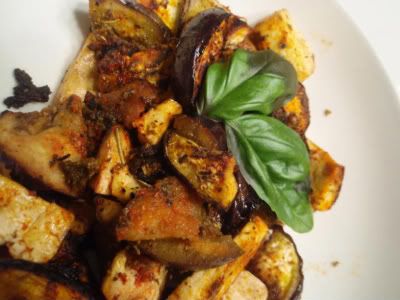 The only real issue here was that the sun dried tomatoes got pretty burnt.  I knew it was going to happen…I just didn't have time to soak them in boiling water first, which probably would have helped.  Don't make my mistake.
Ingredients
1 block tofu, pressed, and cut into 18 rectangles
1 small eggplant, chopped into approx. 2 inch triangles
handful sundried tomatoes, chopped into strips
2 cubes prepared pesto, melted
2 tbs tomato paste
1 tbs garlic powder
2 tbs oregano
2 tbs basil
2 tbs olive oil
S+P to taste
Directions
1. Preheat oven to 410F. Combine all ingredients in a large glass casserole dish and toss to combine.
2. Bake for 1 hr, removing after 30minutes to toss again. Let cool a bit, and serve.
In a lineup of all things healthy (or fairly healthy) there always has to be a dissenter.  And in this case, it's BEER BATTERED ONION RINGS!  These were a spur of the moment thing, and they were AWESOME.  Now I can make a beer batter in my sleep, although I've never actually measured anything, I just toss things in the bowl and add beer until the texture is a tiny bit thicker than pancake batter.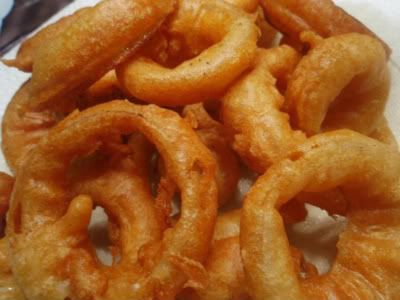 The one complaint I have about these (if I need to have a complaint) was that they retained a little too much of the grease.  I think that's because I tossed them directly onto a plate with one paper towel instead of using the basket.  I'm learning more about frying slowly…hopefully REAL slowly, I've been doing a bit too much of it since I got the deep fryer on black Friday.
I do Asian flavored soups a lot when I need a quick meal and have a door full of vegetables.  The basic ingredients of the stock in this are water, shoyu, schezuan oil, sesame oil, a veggie stock cube, and some red chili paste.  It's always a case of season to taste, and I often under-salt and then add Braggs to my bowl when I eat.  That way no one feels 'over-salted'.  In the mix on this one was a head of bok choy, bean thread noodles, shredded carrot, peas, frozen veggie wontons, dried chanterreles (how on earth do you spell that?) and oyster mushrooms.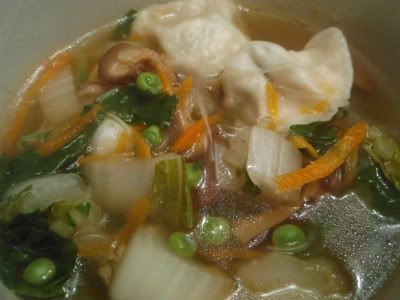 Last but not least was a real simple pasta salad.  I've never even done the "Italian Dressing" pasta salad before, but I decided I wanted to give it a try last night…since Mid-January is obviously pasta salad season.  All I had for pasta was whole wheat spaghetti, but cut in half it worked out nicely.
Ingredients
1/2 lb pasta of choice, boiled and quickly cooled.
Approx 1/2 cup Italian Dressing of choice
1/2 cup black olives, chopped
1 cup cherry tomatoes, quartered
1/2 english cuke, sliced into thin half moons
handful baby spinach, sliced in a chiffonade
2 tbs dried basil
S+P to taste
Directions
1. Once you've cooked and cooled your pasta, combine with all other ingredients, stir and cool until serving. Done!
Don't you just love recipes with one direction?  I know I do.
Selah.