Things in which Cilantro Chutney are AWESOME
So one of my awesome Chanukah presents from one of my awesome friends was a Cilantro Chutney, which I've been using in practically everything I've made since.  The night I got it I wasn't really in the mood to cook anything elaborate, so I did some sweet potato fries dipped in the chutney instead of ketchup.  the trick with sweet potato fries is to cook them until they are a bit burnt, otherwise they'll just never transition from soggy to crisp.  These are cut real thin (you can use a mandolin to make sure they're even) tossed in a bit of vegetable oil, S+P, and then cooked in a 415F oven for 30 minutes, flipped halfway through.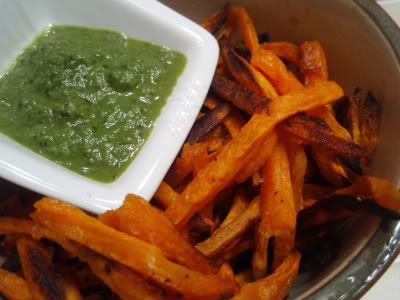 I decided I'd actually try something Indian with the chutney the next night, and I had a block of tofu that had been sitting in the fridge a bit longer then I'd like.  The thing about living with roommates though, is that sometimes you start making a dish fully confident of what ingredients are ready and available in the fridge…and when it's too late to turn back, discover an essential ingredient is missing.  The chutney here is simply mixed into some leftover rice that was in the fridge, and the tofu is done with a dry rub.  I was originally going to coat the tofu with tamarind concentrate and then the spices, but I discovered too late that there WAS no tamarind.  This ended up being well flavored, but VERY dry.  I poured some cherry sauce on top of my portion to moisten it up, but I'd like to try it with the tamarind when I get some more.
The spice rub was a combination of garam masala, curry powder, aesofatida, S+P.  Pressed tofu was coated, and then fried for approximately 3 minutes on each side until golden brown and crisped.  The recipe needs some work though, if I ever get it right I'll put together a recipe with full instructions.
Selah.