Saag Tofu with Naan
While I realize the name of the dish is Saag Panner (and that sounds so much more Indian then Saag Tofu does) I also realize that Paneer is a type of cheese, and this dish is 100% Vegan.  I'm kind of bummed I'll lose the google traffic from people who search "VEGAN SAAG PANEER" but that's why I threw it in right there…hopefully they'll find me now.
To be honest, I made this recipe because I wanted to make Naan, and naan without something to scoop up is really just bland cooked dough.  I also had this really awesome saag paneer at Whole Foods a couple weeks ago (the hot Indian selection is really the only thing I like off their prepared food carts) and I wanted to recreate it.  I won't lie to you and say mine rivaled the Whole Foods one, because it didn't, but it was still pretty darn good.  I'm betting there was ghee and such mixed into theirs as well, whereas outside of the tofu mine is essentially fat free.  So there.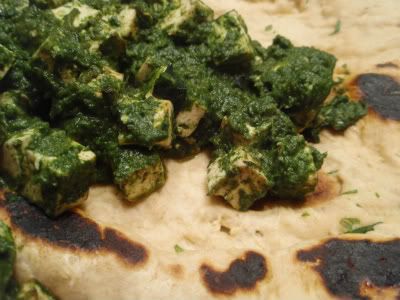 Ingredients
1 bag baby spinach, approx. 6 cups
2 tsp canola
1/2 yellow onion, diced
1 tsp garam masala
1 tsp curry powder
1 tsp aesofatida
1 tsp paprika
1 tsp cumin
1 tbs lemon juice
salt
1 block tofu, cubed
Directions
1. Heat a skillet over med/high, and once hot, add minced onion. Cook for 2-3 minutes until just becoming translucent, and add spices and spinach. Cook down until onions are 100% done, and spinach has wilted down.
2. Transfer spinach/onion mixture to a blender along with lemon juice and a couple teaspoons water just to get things moving. In the meantime, transfer tofu to skillet so it can crisp up a bit. Puree the spinach mixture in the blender, and once tofu is beginning to turn golden, add the spinach back in. Mix until uniform, and remove for serving.
I wish I could say the Naan recipe was original as well, but that one was stolen, and the only real requirements were that it was vegan, and didn't require yeast.  With that said, I chose this one, although I skipped the grilling and simply used a flat cast iron skillet.  The trick with naan is to get those crispy little black spots…yum.
Selah.