Collards and Cornbread
I've done collards before…many times actually, but I feel like they're always a bit different, and my biggest complaint is that they usually come out a little too sweet for me.  I'm not huge on cloyingly sweet foods, and it's hard for me to eat an entire bowl/plate of something that tastes like dessert, no matter what it looks like.  I feel like I finally mastered the sweet vs spicy balance this time around, and the recipe is even simpler then my past attempts so I think I'll be sticking with this one.
Ingredients
1 lg bunch collard greens
half a cup of veg. stock
couple drops liquid smoke
1 tbs tomato paste
2 tbs dark maple syrup
1 tbs cayenne
S+P
half an onion diced
Directions
1. Put all ingredients in the slow cooker on low for 5 hours, stirring once every hour or so to make sure the greens on top aren't burning. That's it!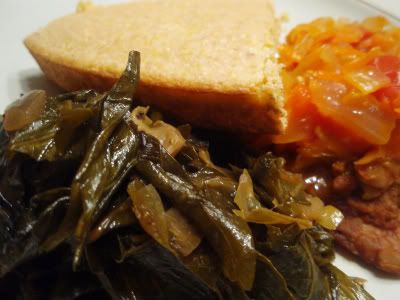 I served this up with the classic skillet cornbread from V'con, although I forgot the recipe runs a bit dry and  didn't add extra moisture like I normally do.  It was still good when I used it to soak up the juice from the greens, but I CAN'T FORGET AGAIN.  I hate when I make the same mistake twice…
Selah.