Chili Mole Sin Carne and Cauliflower with Three seed sauce over Indian Rice
It'd been awhile since I cracked the pages of Vegan with a Vengeance, so I decided to try a couple of meals I'd missed this week.  The first was the chili mole sin carne: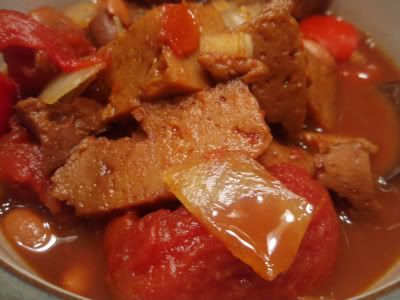 I decided to skip all the cooking instructions for this and instead threw all the ingredients in the crockpot for 5 hours.  The first hour was on high, and since I had to leave after that, I turned it down to low and left it that way.  It came out well…I'd assume tasting as it's supposed to, but it's just nothing special.  I think I'll stick with my own recipe in the future, especially since I've now discovered parve V8…ie there's definitely no beef flavoring in it.  Leaving seitan (made from the standard V'con recipe) in the crockpot for so long tends to make it a bit rubbery too, which I'm not a big fan of.  I may add some TVP to my personal recipe to jazz it up a bit, but I'll skip the seitan.
The next night was more Indian themed, as I made the Indian rice and Cauliflower with three seed sauce, also from VwaV.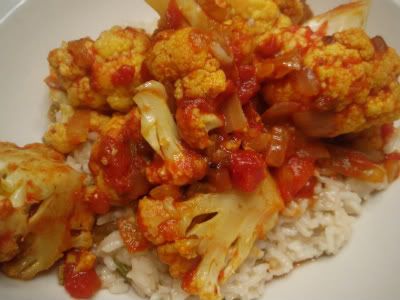 I skipped the almonds in the rice because I didn't have any, but kept everything else the same.  I also ended up adding quite a bit of salt to the rice at the end, because it was SERIOUSLY lacking.  You can put gobs of spice in food, but there's just nothing worse then under-salting in my humble opinion, and Indian food can be so VERY guilty of that.  I liked the cauliflower much better, although it wasn't mind-blowing.  Instead of using whole tomatoes in juice I finished off about a handful of cherry tomatoes and half a can of plain tomato sauce that was in the fridge.  I would suggest cooking with the lid on for a little more than five minutes, although it may be ok if you cut your cauliflower smaller then I did…
Selah.