Pomegranate Glazed Tofu over Saffron Rice
If there's one thing I can never dismiss, it's a culinary challenge (think beet boobs) and when POM sent out a call for "their" bloggers to create a recipe using POM…I had to start thinking.  Now that I've used all the Pomegranate juice I had I'm having new ideas, but I think I'm going to stick with the recipe I made, because it was darn good.  I even got the thumbs up from an avid steak eater…and I was feeding him PURPLE TOFU of all things.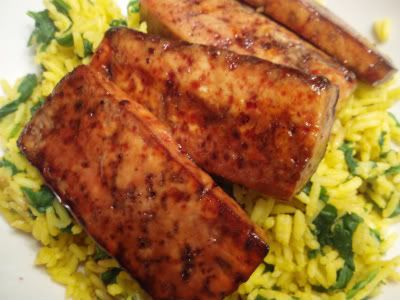 This is a two part recipe, because the rice was really integral to the overall flavor of the dish and balancing out the sweetness of the glaze.
Ingredients
Tofu
1 block tofu, pressed and cut into rectangles
8 ounces POM juice
1 tbs brown sugar
1/4 cup balsamic vinegar
S+P
Rice
1/2 cup jasmine rice
1 cup veg stock
1 tsp powdered saffron (or a pinch of threads)
2 cups chopped baby spinach
Instructions
Preheat oven to 400F. Combine ingredients for the marinade, and boil vegetable stock and saffron for rice. Dip each slice of tofu in the marinade before placing on a greased tray and putting in the oven. Bake for 20 minutes on one side and 10 on the other. While the tofu is baking, add rice to saffron stock, and pour the POM mixture into a small saucepan over medium heat. Allow to reduce down while tofu is cooking.
Remove tofu from the oven and toss in glaze to coat. Fluff rice and mix in the chopped spinach until it starts to wilt. Enjoy!
The glaze for this was sweet, but not overbearingly so, I like to think because the vinegar added a bit of acidity.  I was really happy with my result, and would make this any day of the week, contest or no contest.
And now I'm off to watch Food, Inc, which I FINALLY got my hands on…I made something pretty delicious for dinner tonight too though, so expect another entry soon…
Selah.