Cinnamon Squash
This is a classic comfort food that my Mom has been making as long as I can remember, and when I realized I had all the ingredients earlier this week, I just had to whip some up for myself.  It's not a looker, so you'll have to excuse the picture, but have faith that it tastes yummy and holds to the simple and easy rule I like in my comfort meals.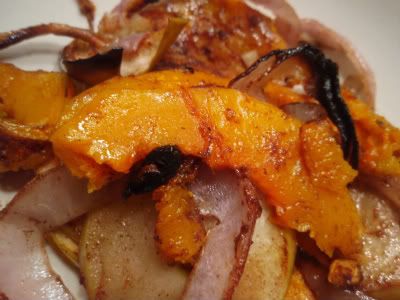 Ingredients
1 butternut squash, peeled and sliced into 1/2 inch thick rounds
1 granny smith apple, sliced into thin rounds
1/2 red onion, also in rounds
1 heaping tbs cinnamon
1 tsp nutmeg
S+P
2 tbs canola oil
Directions
1. Pre-heat oven to 400F. Toss squash, apple and onions in a large glass casserole dish with cinnamon, nutmeg, and S+P to taste.
2. Bake for one hour. Remove, let cool, and enjoy!
This recipe always reminds me of Thanksgiving, not necessarily because it is part of the meal, but because it contains all my favorite smells and flavors of the big dinner.  The apples and cinnamon remind me of the apple pie, and the squash with cinnamon/nutmeg reminds me of the pumpkin pie.  The caramelized onion gets me all hyped up for the boiled pearl onions in red wine, although thankfully there's no cinnamon in that.  It's just so darn good….and I suspect it wouldn't be bad with some cranberry sauce either…
Selah.