Carmelized Fennel and Butternut Squash Soup
So I admit to finishing up VeganMofo with a whimper…I simply haven't been cooking anything terribly exciting the last week or so, and have had even less motivation to post.  I'm back though…I swear!!!  With the winter getting colder, there will be lots motivation to try out hearty stews and casseroles that I tend to avoid in the summer and early fall months. That said, I've got a simple veggie side here, and my first nice warm soup of the "winter".
First off was a dinner I made in 8 minutes.  Literally.  I had a bulb of fennel sitting in the fridge unloved, along with a purple onion.  I remembered hearing at some point that fennel cooks down really nice and sweet, so I decided I could combine the two and caramelize them.
Ingredients
1 bulb fennel, thinly sliced
1/2 lg purple onion, thinly sliced
2 tbs turbinado sugar
S+P to taste
1 tbs olive oil
Directions
1. heat the oil in a skillet over medium heat, and add all the other ingredients. Stir to coat, then cover the skillet.
2. This will cook down quick with the cover, and once the ingredients have softened and begun to brown, this is done.
Added bonus with this dish?  fennel is great for your tummy, so no indigestion from wolfing it down in two minutes…(And yes, I ate the entire bulb of fennel and onion myself.
Last night I decided it was time to try a butternut squash soup again.  You may remember that I did this last winter, but put in way too much liquid and basically ended up with squash flavored broth.  This time I used a recipe for guidance, adding some cinnamon, nutmeg and garlic powder for flavor.  Unlike the recipe, I only used one potato, and I replaced the 32ounces of chicken broth with 16 of veggie, so this was nice and thick.  (And Vegan)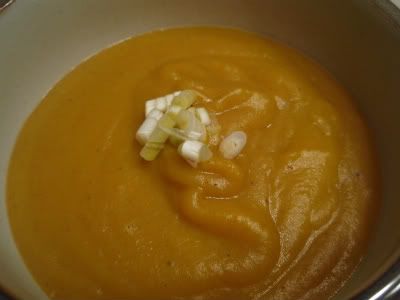 While I'd never profess to being anything but a summer person (I HATE the cold) I am getting pretty excited about all the warm wintery comfort foods in my future…especially since I got off to such a good start with this one.
Selah.