Asparagus and Mustard Stir-fry with crisp tofu and peppers in a Spicy Sauce
As a matter of course, I am suspicious of anything that titles itself the "Complete Vegetarian Cookbook"  I don't know why it's considered acceptable in the Vegan/Vegetarian cookbook sector to call recipe collections "complete", or "everything", or "the end all be all".  No other cookbook would claim to have every recipe ever, so how can a 250 page book include every non-recipe on earth?  I think not.  Nevertheless, there are some yummy looking things in this book which recently found its way to me, and I gave a couple a try the other night.
The first was an asparagus and mustard stirfry with red onion and garlic.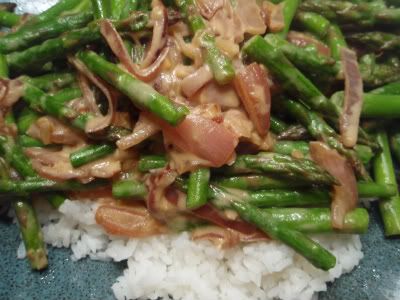 I kept the recipe more-or-less to the book, the general idea is that you combine mustard, honey and cream (I used soy milk) to create a sauce that coats the asparagus as it cooks down.    This one is going into the quick, easy, and delicious recipe file, because it was all three.
To back it up, I picked a recipe called "stir-fried crisp tofu in a hot bean sauce".  I did make some changes to this, so I will share the recipe, and I highly recommend giving it a shot, because the sauce was AWESOME.  It also looks exactly like a family style dish in a Chinese restaurant, which is pretty rad.
Ingredients
1 lb extra firm tofu, pressed and cubed
2 tbs peanut oil
1/4 cup shoyu
1 tsp powdered ginger
3/4 tapioca flour
1 lg onion, cut into strips
2 cloves minced garlic
2 tsp brown sugar
1 yellow pepper, sliced into strips
2 green onions, chopped
2 tbs dry sherry
1 tsp orange zest
1 tbs Korean hot pepper taste
Directions
1. Place the tofu cubes in a bowl with the peanut oil, shoy, and ginger. Shake to coat, and marinate for at least 30 minutes.
2. Remove tofu from the marinade, and coat cubes with tapioca flour. Heat 1/4 cup of oil in the wok, and add tofu, cooking until golden brown on all sides. Toss onto a paper towel covered plate to drain.
3. Drain leftover oil from the wok, and add the onion, garlic and sugar. Stir fry for 3 minutes, then add the pepper, green onion, sherry, orange zest, and hot sauce, along with any remaining marinade. Once the sauce has come to a boil, re-introduce the tof, tossing quickly to coat.
4. Serve over grain of choice….I went with green tea soba on this particular occasion.
The one bad thing about using tapioca flour is that while it originally crisped up, as soon as I reintroduced the tofu to the sauce it became pretty gummy.  Still more than edible, but gummy.  The original recipe called for rice flour, which I thought I had, but apparently that's another item to add to the shopping list.
Selah.