Sweet Chili glazed Tempeh

So I can't take any credit for this recipe, if you want it you'll need to head over to happyveganface and get it.  I'm always on the lookout for awesome new tempeh recipes and that's exactly how I look for them….I head over to google and enter the search term "awesome tempeh recipe" and see what I can dig up.  Yesterday it was this.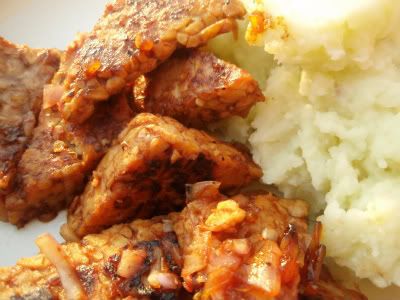 This was REALLY good, I think I'm on a role with doing sweet glazes on tempeh.  The only changes I made were method-wise.  Instead of steaming for 10 minutes, I boiled the tempeh triangles for 15.  I also let it marinate for an hour instead of a few minutes.  When it comes to leeching the bitterness out of my tempeh, I don't mess around.  I also added the sauce when the heat was still up, letting it coat the tempeh and reduce down before I turned the stovetop off.  Other than that…I followed the instructions to a T.
Those are wasabi mashed potatoes sneaking into the frame…basic mashed potatoes with some wasabi powder stirred in.  Nothing special, but I think a forkfull of mashed potato and sweet glazed tempeh is nearly as perfect as food gets…thoughts?
Selah.