Roasted Pepper/Tomato Soup and Herby Cubed Potatoes

One dish that's always a classic, is oven roasted potatoes, prepped with some dried herbs (in this case I think I went with parsley, rosemary, shallot-pepper, and garlic salt) tossed in olive oil, and baked for 40 minutes at 420F.  I pull these out and toss once in the middle, but other than that, they take care of themselves and I can tend to more exciting things.  I also chopped up half an onion with the potatoes this time…optional, but always a nice touch, and it makes a great breakfast dish as leftovers too.
More exciting, was the soup I made out of hot roasted pepper and tomatoes.  I got a load of what looks like  chilis from some close friends with a garden..and I failed to ask what exactly they were, but these things are Seriously HOT.  The first thing I did with these was roast them over an open flame (otherwise known as my gas range in the kitchen) allowing them to char and then peeling off the skin.  I used a full one in a quesadilla the other night, which I didn't bother picturing, but suffice it to say my mouth was burning for awhile.  This time around I used a single pepper in an entire pot of soup, and the heat was still powerful, but highly enjoyable.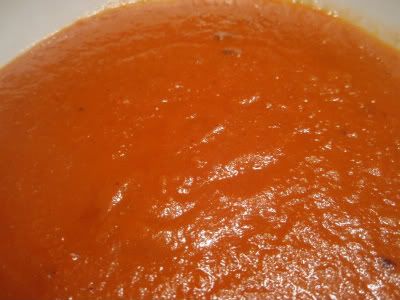 There isn't a whole lot you can do to make a pureed soup look exciting in a photo, but you'll have to take my word for it that it tastes great.  (and makes an awesome sauce for whole wheat rigatoni, as I discovered at lunch yesterday)  You should definitely give this one a shot as it cools down, and if you decide to skip the soup step entirely and use it as a rocking pasta sauce instead….well I won't tell anyone…
Ingredients
1 HOT Anaheim chili, fire-roasted, peeled, de-seeded and minced
2 lg roma tomatoes diced
1 cup plain tomato sauce/puree
2 tbs olive oil
1 tbsp fennel seed
1 onion, diced
1 handful sundried tomatoes, chopped
1 tsp red chili flakes
1/2 cup garbanzo flour
1 cup veg stock
3 cloves roasted garlic, mashed/minced
1/4 cup soy or hemp milk
Directions
1. Heat olive oil over medium, and sautee onions with fennel seeds until caramelized.
2. Add chili flakes and flour, stir, then add tomatoes and sauce, garlic, pepper, and stock. Cover and simmer for 30 minutes.
3. Add milk product of choice, and let stand 5 minutes. Then hit it with the immersion blender!!!! (You could probably pour it into a normal blender as well, but that's not nearly as fun)
4. Serve up (with an optional hit of dried basil on top) and enjoy!
I was REALLY happy with this, and even more so with its versatility as a sauce.  It's just plain good comfort food, and almost fat free, unlike a certain campbells alternative I'm known to indulge in on rare occasions….
Selah.