Reddish Thai Curry adapted from Vegan Dad

So I jumped on the VeganMofo bandwagon a bit late this year, I'm not sure how I became completely oblivious to its existence…especially considering I did it last year, but it totally skipped my mind until I saw the headline on some of my favorite reads, and went "WHERE HAVE I BEEN?????".  Oooops.  Better late than never though.
Apparently Vegan Dad was reading my mind, because for about the past two weeks I've been craving thai curry, but I don't have coconut milk, and kept forgetting to pick it up when shopping.  I didn't think it was  possible to make a sweet and spicy Thai style curry without coconut milk…but I had forgotten the magic that is cashews.  DUH!  I changed at least three quarters of the ingredients, so I will include a recipe for you…while his looked great, I simply didn't have everything when I decided to make it on the spot, and it prominently featured cilantro…and we all know my feelings on that.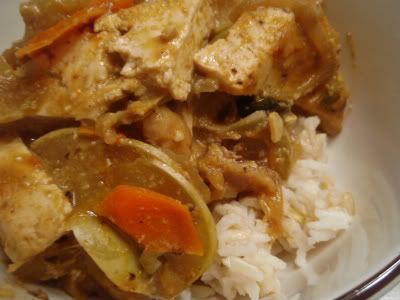 Sadly this dish isn't a real looker, but it tastes darn good, and we all know that's the important part.
Ingredients
1/2 cup water
1/2 cup raw cashews
2 tbsp peanut oil
2 tbs jalapenos, chopped
3 large shallots, chopped
1 tsp coriander
4 garlic cloves, chopped
2 tbs powdered ginger
generous tbs red curry paste (I use Thai Kitchen)
1 cup veg. broth
2 tsp. lime juice
1/4 cup brown sugar
2 tbsp Vegan Oyster Sauce
2 tbsp Shoyu
6 jalapenos, minced
1 pkg extra firm tofu, pressed then cut into triangles
2 tbsp sweetened vanilla hemp milk
Chopped carrots, pattypan squash and 15-20 basil leaves
Directions
1. Place first 9 ingredients in a blender, and blend until smooth.
2. Transfer to a wok over med/high heat and cook for 10 minutes, stirring constantly so it doesn't stick to the bottom. Add broth, lime juice, sugar, basil leaves, sauces, peppers, vegetables and tofu, and bring to bubbling.
3. Simmer for half an hour so flavors can develop, add the hemp milk and cook for another five minutes before serving over rice.
While I don't normally cook with sweetened hemp milk, here I made the decision to use it instead of the coconut milk, because it would add that sweet element to the curry.  It worked out great, and probably saved me a whole lot of calories over a can of coconut milk.
Really, I'm just glad I finally got my curry.
Selah.