Ratatouille
So I was watching the movie on the Disney Channel this weekend (not like I haven't seen it 4 times, but it's always fun) and I had the same thought I always do when I watch it…I want to make ratatouille!  I've never actually done it before, but this time I was motivated enough to give it a shot, and the beautiful thing about the dish is that it's already vegetarian, I didn't need to tweak a thing!
I went classical and used Julia Child's original recipe which I've included the link to.  Unfortunately this dish is not a looker in the picture, since it goes stew-like as soon as you try to remove a serving, but trust me when I say it tastes great.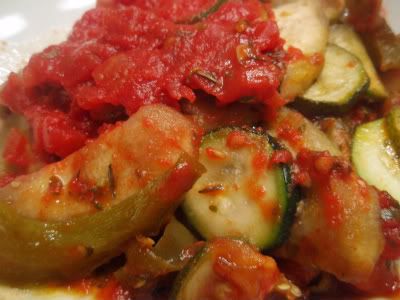 I doubt my rendition would make the evil critic in the movie go into a trance with glee, but it was just fine for me and my dinner guest, so I'm happpy.  Pretty much anything that involves zucchini and tomato sauce of some variety is good with me…
Selah.