Mushroom Bouillabaisse

I'm not generally an Emeril Lagasse fan, frankly he says "um" a lot which I find to be the MOST annoying trait in a tv personality, I know from seeing his bio once that he's a pretty weak excuse for a family man, and the whole "BAM!" thing just rings fake to me.  But all that said, he vaguely reminds me of Dracula (I think it's the widow's peak), which I enjoy, and every so often I do find a recipe of his that I'm into.  Bouillabaisse doesn't exactly seem like it would be a classic Vegan dish…after all, it's based on seafood, but then so is Paella, and that's a personal favorite of mine as well, so I was hopeful that I could work some magic with this too.  I actually didn't have to change much (minus the seafood, bouillabaise practically IS Vegan) and I was happy with the results, so while I'm LINKING YOU OVER to his recipe, I'm posting my altered version here.  First the picture: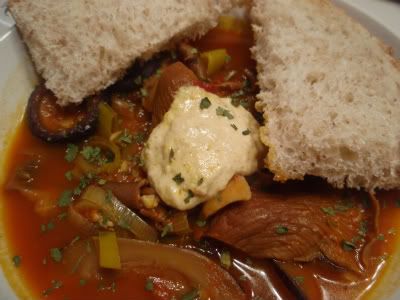 Now the fun part…you get the recipe.
Ingredients
For the broth:
* 2 tablespoons olive oil
* 1 cup onion, chopped
* 1/2 cup celery, chopped
* Salt and pepper
* 3 cloves garlic
* 1 bay leaf
* 8 peppercorns
* 2 sprigs thyme
* 1 tbs veg. stock
* Water to cover
* 1 cup dry white wine
For the Bouillabaisse:
* Pinch of Saffron
* 1 cup leeks, julienned
* 1 cup chunky tomato sauce
* Juice and zest of one orange
* 1 tbs fennel
* 2 tablespoons garlic, chopped
* 2 tablespoons parsley, finely chopped
* Salt and pepper
* 3 cups assorted mushrooms, I used oysters, shitakes, and morels
* Salt and pepper
Directions
For the Rouille: 1 spicy green pepper, roasted and peeled, 2 cloves garlic, 1 piece of sourdough bread torn into pieces, 3 tbs silken tofu, 1 tablespoon Dijon mustard, Juice of one lemon, Salt and pepper, 1/2 cup olive oil
For the broth: In a large sauce pan, heat the olive oil. Add the onions and celery. Season with salt and pepper. Saute for 3 minutes. Add the garlic and cook for 1 minute. Add the bay leaves, peppercorns, and thyme. Add the stock base, water and wine. Bring the liquid to a boil and reduce to a simmer. Cook for 30 minutes. Remove from the heat and strain.
For the Bouillabaisse: Place the stock on the heat and bring to a simmer. Add the saffron, leeks, tomatoes, orange juice, orange zest, fennel seeds, garlic, and parsley. Season with salt and pepper. Add the mushrooms. Cook for 15 minutes. Season with salt and pepper.
For the Rouille: In a food processor, combine all the ingredients, except for the oil. Puree until smooth. With the machine running, slowly add the olive oil. Season the emulsion with salt and pepper.
To assemble: Remove the mushrooms from the pan and place on a large platter. Pour the stock into a serving bowl. Serve the Rouille and crusty bread on the side of the Bouillabaisse. Spoon the Rouille over the stew and serve with the crusty bread.
I doubt Emeril will ever make a Vegan version of his Bouillabaisse, but really he's missing out…I mean seriously, who wants to deal with lobster tails in their soup?  They're just big bugs anyhow…
Selah.