Mo Meatloaf Mo Money

I'm always up for a new "meat"loaf recipe, even though I've got a couple that I like at this point, and now I need to add a third.  The original recipe came from melbedggood, but I changed a whole bunch of the ingredients, so while you should definitely go check out the original, I've posted the recipe with my changes here as well…
Ingredients:
• 1 cube vegetarian beef-style stock
• 1 pattypan squash diced, cooked to softened stage
• 1 tbs onion powder
• 2 tbs ketchup
• 1 tbs brown sugar
• 2 tbs white vinegar
• 2 tbs Dijon mustard
• 1 tbs cherry chipotle BBQ sauce
• 1 cup water
• ¼ cup TVP
• 1/3 cup tbs gluten flour
• 2 handfuls oyster mushrooms, diced thin
• 2 tsp garlic minced
• salt
• white pepper
• 3 tbs garbanzo flour
• 1 cup breadcrumbs
• 1 egg beaten or ener-G
• 1 tbs herbs de' provence
• Cooking spray for loaf pan
Glaze
• 2 tbs brown sugar
• 1 tbs dijon mustard
• 2 tbs ketchup
• white pepper
Instructions:
1. Preheat the oven to 365 Fahrenheit
2. Mix all the dry ingredients together well
3. Mix the wet ingredients together also.
4. Combine the two and mix well.
5. In the pre-greased tray, place the ingredients and put a piece of foil on top.
6. Place in the oven for an hour.
7. Pull the meat-loaf out and turn.
8. Mix your glaze together and apply to the top of the meatloaf.
9. Place in the oven for another 1/2 hour (place the foil back on if it browns too quick). Finish cooking.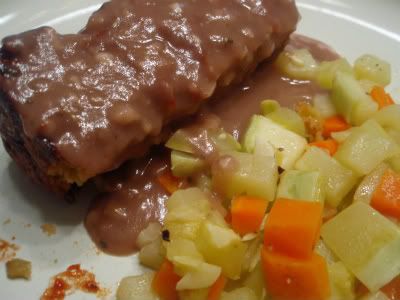 The load is covered in the red wine roux from V'con (an old favorite, and it comes together pretty quick) and those are some simple sauteed chunks of squash and carrots on the side.  I dressed up the veggies with S+P and lemon juice, which was the perfect simple partner to the loaf.  I just love a comfort food dinner from time to time…don't you?
Selah.