I am SUCH a posting bum

I think part of the reason I haven't posted is because I haven't made anything horribly exciting.  The one night I did make a really nice meal for company, I didn't take any pictures, so there's no proof anyhow.
I'd have to say the best thing I've made recently was the Sweet Chili Lime Tofu from VeganYumYum.  This was really sweet, but also really good, and may even be one of my favorite recipes of all time.  My tofu is cut into really odd shapes because the cast iron pan I used to press the 'fu was at an angle, and I ended up with a slanted block to cut up.
I served up the 'fu over some orzo pasta with shoyu and sesame oil, a handful of peas and baby bok choy mixed in.  It was meant to be nothing more then a simple bed for the tofu, and played that part well, so I was pleased.
Last night I made an incredibly simple stir fry of sorts, based on a simple recipe I saw in a Malaysian cookbook from one of the awesomest people I know.  The recipe was for wilted spinach cooked in a combination of oyster sauce and boiling water with some sauteed garlic.  I did just that, but using Vegetarian Oyster Sauce (otherwise known as mushroom sauce) and adding celery, edamame, pickled bamboo, mushrooms, and scallions to the spinach.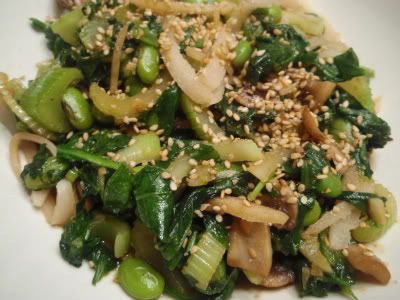 It was just right for dinner, since Tuesdays are the only day I don't have an evening workout, and can skip the protein.  I wouldn't say it was worth doing again, but I've also done much worse.
Selah.