Chickpea Dal or Chana Dal

So I'd been craving Dal for awhile, which pretty much guaranteed it would be a let down when I finally made it.  This certainly wasn't bad, but it didn't live up to my week long craving either.  I thought I'd over-salted in an effort to overcome my constant Indian food issue, which is that it's heavily spiced, but has no friggin salt.  I didn't succeed though…this was indeed over-spiced and under-salted.  Sigh.  I also didn't use as much stock as I should have, and therefore the chickpeas stayed fairly hard and didn't soften up into a smooth stew like I'd hoped.  Good, but not great.  I've got a ways to go with my chana dal skills.  Considering the bottom two flours of my apartment building are all Indian families and it smells like AMAZING curry down there every night, I should probably go down and ask for a lesson or something…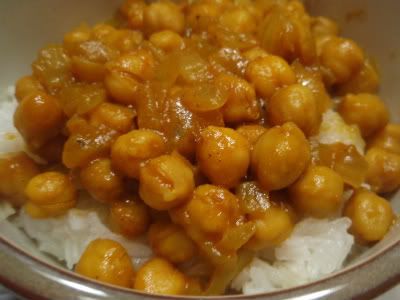 I'll include the recipe as I made it, but I would suggest limiting the amount of each spice and doubling the stock used, if you try it, let me know how it goes…
Ingredients
1 can (13.5 ounces) chickpeas
1/2 onion, diced
1 tsp asafoetida
1 tsp turmeric
1 tsp curry powder
1 tsp dried mustard
1 tsp garam masala
1/2 cup veg stock
1/4 cup leftover tomato/pepper soup
Salt to taste
2 tsp olive oil
Directions
1. Heat oil in a pot over medium heat, and then add the onions. Cook until starting to caramelize, then add all the spices.
2. Stir until combined, and then add the chickpeas, soup and stock. Simmer for 30-40 minutes so all the flavors can combine.
In the end, I think I've made better Indian food, this wasn't one of my favorites.  I also had to eat it over sticky rice because I discovered I was out of the long grain after starting to cook, and the only thing I really love sticky rice in is dessert…oh well.
Selah.