Carrot Dill Salad

I know I've blogged about this at some point, but it remains a quick and easy favorite, and I don't think it ever hurts to blog about those twice.  Besides which, I simplified it even more and kicked it up a notch with fresh dill this time, so I think it's worth a second look.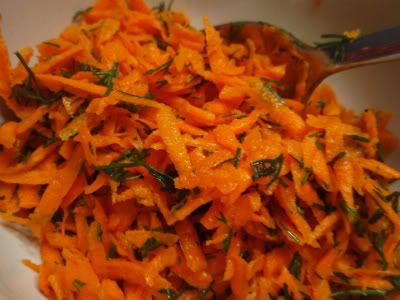 There's nothing like simple and fresh, and I was right thinking that fresh dill would really elevate this dish, because now it's awesome.  I also love when my whole kitchen smells like dill, it just brightens up my mood.  So you've seen it before, but here's the recipe again,  newer and more improved.
Ingredients
2 cups carrots, shredded with a box grater
1/4 cup fresh dill, chopped
1 tbs extra virgin olive oil
1 tbs lemon juice
S+P
Directions
1. Combine all ingredients, allow to chill for at least half an hour so flavors can develop. Done!
Quick, easy and delicious…just how all the best recipes should be.
Selah.