Sausage, Pepper and Onion Pasta
Sausage, peppers and onions is pretty much a match made in heaven, and it was just what I wanted the other night for dinner…I simple wasn't feeling the bun.  So what to do?  Why replace one carb with another of course, and sausage with onions and peppers over pasta it was.  While I often make my own sausages, I occasionally indulge in the pre-packaged ones as well, as I'm a pretty big fan of the Tofurkey sausage line.  My personal favorite is their beer brat, but my roomate decided on "keilbasa" this week, so that was what I had to work with.  Never fear…I can make anything INTO a beer brat, and that is exactly what I did.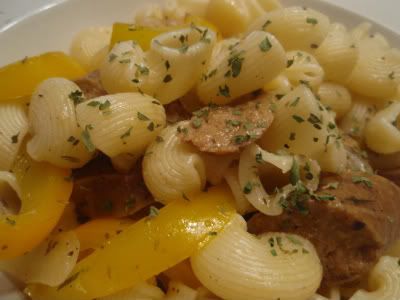 I decided to start the sausages off on the outdoor grill while my pasta water was boiling, so that they'd be nice and crisp on the outside and fully cooked before I started adding additional liquid.  I feel like it's good to know how dry something is before you start injecting additional moisture through the cooking process.  Pre-packaged meats are always something of a risk in that respect.
Ingredients
4 pre-grilled Tofurkey Keilbasa Sausages
1 lb pkg. pasta of choice
1 lg. yellow bell pepper, sliced
1/2 lg. yellow onion, halved then sliced
1/2 bottle Killian's Irish Red Ale
S+P
2 teaspoons canola oil
Directions
1. Boil water for pasta and drop in when ready. Heat the oil in a skillet over med/high heat. Add onions and peppers with S+P, tossing to coat, and allow to cook until soft. In the meantime slice the sausages on an angle. (or into plain rounds, whatever you prefer)
2. Add the beer to the vegetables, allowing to reduce for at least 2 minutes before tossing in the sausages. Cook everything together until pretty much all the liquid has evaporated.
3. Once noodles are done cooking, drain and combine with sausages and peppers.
I sprinkled some dried parsley on top of the dish for color, and dug in.  DEFINITELY fulfilled my craving for sausages and peppers…and it looked classier then a sandwich.
Selah.