Mystery Bag Part 2
I'm a big proponent of simplicity, and while I thought of combining this with blocks of cheese, or tofu, or adding lots of fancy spices, in the end I simply couldn't do it, and I wouldn't add a thing to the final product.  These tomatoes all came from the garden bag, although I can't remember what they're all called…I know the purple ones are black cherry tomatoes.  I added about 12 leaves of fresh basil from my own balcony garden, along with a bit of dried basil, about 1/4 cup of balsamic vinegar, S+P.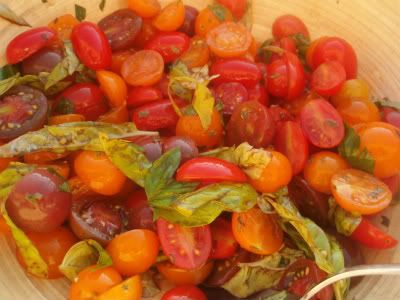 The most important part of this was letting all the flavors meld for about half an hour before enjoying, so that the flavor really gets down into the tomatoes, not that they aren't great plain.  Gorgeous AND delicious, score.
Also in the bag was a whole bunch of celery and parsley, two things that remind me of soup, and so that is what I did.  It was just cool enough by evening yesterday that I could enjoy a bowl of soup.  I don't think I'm quite ready for stew season yet, but the soup was nice with the weather cooling down a bit, and this was a real standard rendition.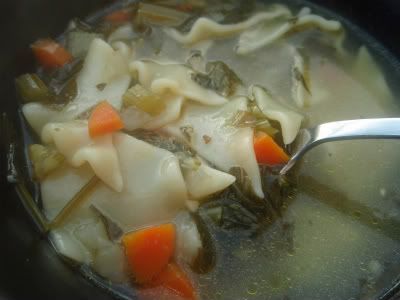 Ingredients
1/2 lg yellow onion, diced
Approx. 1.5 cups finely chopped celery and parsley
1 large cloved minced garlic
2 tbs olive oil
2 tbs dried tarragon
Generous grind pepper
1 tsp garlic salt
1/4 cup dry white wine
1 lg carrot, diced
4 cups veg. stock
1 cup dried noodles of choice
Directions
1. Heat oil in a medium/large soup pan over med. heat, and add the garlic. Sautee for about 30 seconds, then add onion, carrots, and greens. Allow to cook down 5-6 minutes, along with the tarragon, garlic salt, and pepper. Deglaze with wine.
2. Add stock, cover, and bring to a boil. Allow to simmer for about 10 minutes, and then add your noodles. Cook until noodles are prepared.
Next up were some zucchini fritters, the only non-Vegan preparation I did with the bag ingredients.  These were straight-up, simple as can be fritters, although they were pretty soft in the middle, so perhaps I should call them zucchini pancakes or something along those lines.  I can't say I measured anything for these, so no specific recipe, but there was grated zucchini, flour, S+P, and one egg.  I combined those ingredients to a nice texture, and then fried in canola oil, about 3 minutes on each side.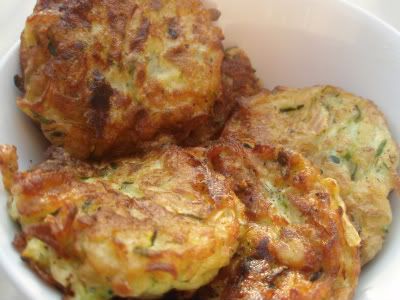 I was trying to figure out what sauce these would go best with, and couldn't come up with anything, so they were eaten plain…which was fine.  A good sauce would take them to the next level though…maybe next time…
Next up (also with the parsley and celery from the bag) was a quick and easy potato hash.  I didn't do any intense spicing on this, so the majority of the flavor came from ketchup when eating.  I did really like the crunch of the celery though, that was an experiment and it's something I'd do again.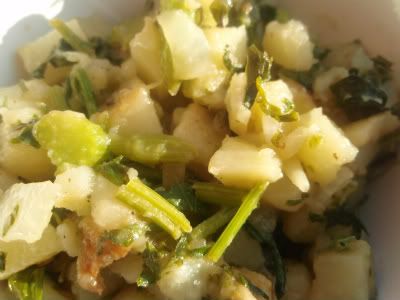 Ingredients
2 chefs potatoes, small dice
1/2 yellow onion, diced
1 cup celery and parsley, diced
1/2 cup dry Vermouth
2 tbs canola
S+P
Directions
1. Coat a large skillet with oil over med. heat. Add onions and potatoes and toss to coat with oil. Add S+P and greens, cooking until greens have started to wilt down.
2. Pour in vermouth, stir, and cook for another 10 minutes or so. You want to taste a potato every so often to see if they're cooked.
Even after the soup and hash, there was some parsley and celery left (about 1/2 cup chopped) and I decided to cook it up with a few white japanese eggplants that were in the fridge.  I did an Asian preparation on this, sauteing the cubed eggplant and greens with mirin, shoyu, tandoori masala, sesame oil and peanut oil.  This was simply cooked until soft and served up plain, although it might have been good stuffed in a naan or flat bread of some kind.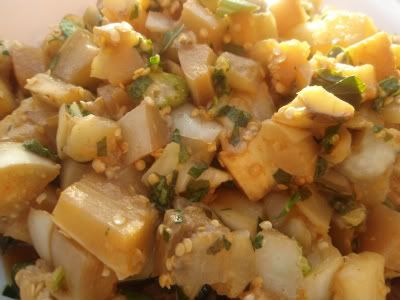 One of my favorite things about the small white eggplants is that the skin cooks up so easily along with the flesh and they don't need to be salted ahead of cooking.
Last but not least, I made some zucchini blondies.  I knew I wanted to try at least one desert with the blondies, and this turned out to be really easy and successful.  Since making up my own baking recipes from scratch scares me, I used the one here, simple eliminating the Mayo (why would that be in a dessert anyway???) and replacing soymilk with hemp milk, although for the non-lactose intolerant/Vegan you could use regular milk as well.  I also put in about a cup of shredded zucchini from the garden bag.  While you could see the zucchini in the finished product, it didn't impart any flavor, and I was kind of bummed I hadn't doubled the amount…next time.
Selah.