Garden Challenge Bag 2, Part 1
If you've been with me for a bit, you will remember the first garden challenge when Michelle gave me a bag of produce from her bounteous garden, and lo and behold, it's happened again!!!  This time I'm making a number of different things with the produce, so there will be another entry forthcoming.  Last night I made a VERY simple bok choy salad and a fried ORANGE tomato.  I know green is traditional, but this was pretty darn delicious as is.
I chopped and washed the garden bok choy, and combined it with a julliened carrot that came from the depths of my fridge.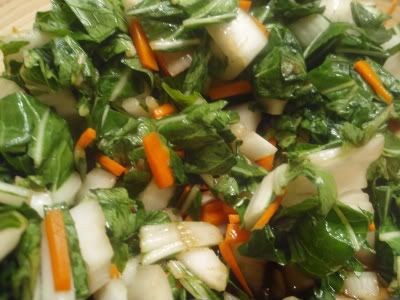 I made a dressing of (fairly) equal parts rice vinegar, shoyu, and lime juice, and just allowed this to set and "meld" for about half an hour before eating.   With greens I love, simplicity is usually my path of choice.
There was also an awesome, orange, heirloom-ey looking tomato in the bag, and my first thought was fried green tomatoes…since apparently I have color confusion issues.
These certainly weren't green, but they certainly weren't bad either, and they were REAL easy to make, I can understand the draw.  You get a recipe for this one, and highly recommend giving it a shot with any large tomatoes you have sitting around.
Ingredients
1 lg. tomato, color of choice
1/2 cup soymilk or egg—whatever you'd like to coat with
1.5 cups breadcrumbs
1 tbs oregano
S+P
Olive Oil
Directions
1. Heat about 2 tbs olive oil in skillet over medium heat. Meanwhile, slice tomato into rounds, fill one bowl with breadcrumb/oregano/S+P mixture and another with your wet coating.
2. Once oil is hot, coat first tomato slices with wet mixture, breadcrumbs, wet mixture again, and more breadcrumbs. Lay down in the oil and fry for approx. 2 minutes on each side, until golden brown. Transfer to a plate covered with a paper towel when finished.
I had my first serving of tomatoes dipped in ketchup which was really good, but I discovered they're real delicious plain as well.  You do need to eat these fairly quick though, because the coating won't stay crisp long…this tomato was nice and fresh and full of juice…
Selah.