Garden Bounty
Last but not least, lest you think I've been lazy and wasteful of my kitchen time, I bring you "preserves".  They aren't really preserves, since there isn't even any fruit, but I have trouble calling something "canning" when I'm putting it in jars.  Does that make it jarring?  I always thought that was a bad thing….but anyway.
First off, I needed to do something with all the jalapenos I grew this summer, and since I'm a nacho-lover, what better to make then pickled jalapenos that'll last me all fall?
Pickling jalapenos is ridiculously easy (although I guess I won't know for sure until they've been in the fridge a month and I can try my first.) but they sure look good.  I won't even bother with a recipe for these, you slice the jalapenos into a jar, and boil equal parts distilled vinegar and water.  Pour the vinegar mixture over jalapenos, submerge jar and boil another 20 minutes to create a seal.  Done!  My mouth is watering just thinking of the nachos in my future.
Since I had some leftover vinegar mixture, I chopped a couple of mushrooms with rosemary, tarragon and pepper, and filled the jar with the remaining vinegar mixture.  Time will tell if they're any good.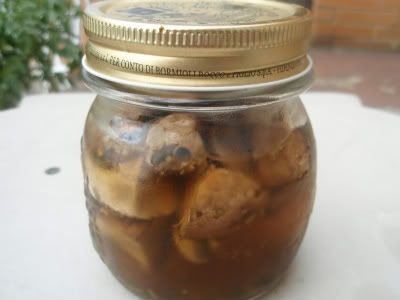 So what do you do when life gives you LOTS of tomatoes?  Make salsa of course!  If I was Italian I might make marinara, but I went with salsa.  It's still the tail end of summer, so it came to mind first.  The tomatoes here were a combination of red cherries from my personal plant, and sunsugars, grape tomatoes and Matt's Wild Cherry, along with some tomatillas I got from the market…..here comes a recipe!
Ingredients
Approx. 1 lb mixed tomatoes of choice, chopped
5 tomatillas, chopped
8 jalapenos, minced, with seeds
1/2 bell pepper, minced
1/2 small yellow onion, minced
1 tbs garlic salt
3/4 cup distilled vinegar
1/4 cup apple cider vinegar
Directions
1. Combine all ingredients in a pot, and bring to a boil. Once a boil is reached, reduce to a simmer and cook for 25 minutes.
2. Pour into jars, seal, and then submerge in boiling water for 20 minutes.
I got a few jars of salsa, and we went through almost an entire one with chips last night alone.  I'm very happy with this stuff, it's got a solid tang from the vinegar and a nice little kick back of heat from the jalapenos.  I only hope it keeps the flavor as the salsa sits in the fridge for a bit…
Selah.