Cranberry Beans and Lemony-Roasted Veggies
This was an evening of beautiful vegetables, and when you have beautiful vegetables, the preparation should be as simple as possible.  First off, I got my first ever cranberry beans, which look awesome on the outside, and on the inside when you shell the fresh beans.  Unfortunately when cooked, all the color leeches out into the liquid (purple water anyone?) and the beans themselves start to look pretty darn boring.  Oh well.
They do retain a light lilac tinge, although the cranberry colored striations as gone.  Too bad.
Ingredients
Approx 1 lb (pre-shelled) cranberry beans
2 tbs fresh minced parsley
2 tbs extra virgin olive oil
S+P
Directions
1. Boil water in a medium saucepan. Once you've reached a rolling boil, add the shelled beans, and cook approx 20 minutes until soft but not mealy.
2. Drain beans, and mix with oil, parsley, and salt and pepper to taste. This is as simple as it gets, and absolutely delicious. You could undoubtedly add some lemon juice with good results as well.
I had a huge (and gorgeous) butternut squash from Michelle's garden, and while I thought soup first, I simply wasn't in the mood.  Roasting is more my speed, and I wanted something a bit more summery then soup.  Lemony roasted squash it was.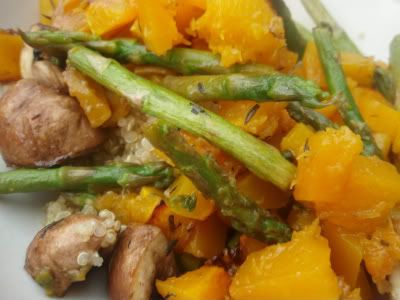 Ingredients
1 lg butternut squash, diced into 1/2 inch cubes
1 bunch asparagus cut into thirds
Approx 6 mushrooms, quartered
1/4 cup olive oil
1/4 lemon juice
1 tbs dried thyme leaves
S+P
Directions
1. Preheat oven to 420F. Combine oil, lemon juice, thyme, and salt and pepper to taste. Put squash in a large casserole dish, and douse with the lemon/oil combo, tossing to coat.
2. Cook squash for 25 minutes. Remove from oven, add asparagus and mushrooms, toss again to coat. Bake another 15 minutes. Remove, and allow to cool.
I served this up over quinoa since I hadn't had any in awhile, and I was craving it.  Couscous would have been another good choice.  The lemon flavor was an awesome idea, it really gave it a nice brightness I don't always have in roasted veggies.  It's something I'll need to remember in the middle of winter when I'd kill for brightness in my day…I mean food.
Selah.