Back after Hiatus
So I know the posting here has been  slow of late (and non-existent the last week and a half or so) but I' ve  got good reason.  Life has been crazy.  I could give you a long list of excuses, but there's just no point.  Suffice it to say I've had no time, and while I don't have much now, I can at least give you one entry with a line up of pictures.  I haven't been cooking all that much, and haven't made anything stellar either, so that's another reason posting has been slow…it'll pick up though, I promise!
Let's start with the snacks, which are pretty much the only original thing I've cooked lately, and I'd have to say the best.  Nothing beats simple.  First off were some zucchini fries.  You all know how this works.  Toss "fry cut" zucchini in a glass casserole dish with a bit of grapeseed oil, S+P.  Bake for 20 minutes at 400F, flipping once.
I've never mastered the art of "crispy" zucchini fries, but then I'm not even sure it's possible, unless I want to batter and deep fry…which sounds delicious, but isn't exactly a healthy snack.  Crispy or not, these were great with ketchup, I think I may even *GASP* like them better then their potato brethren.
My other snack was a more desserty (yes I just made up a word) specimen, that being sweet plantains!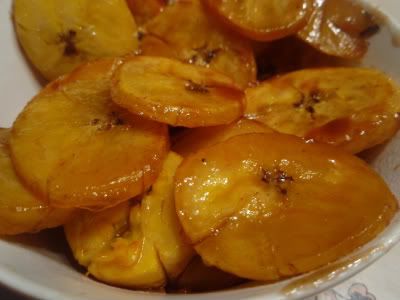 I usually go with a more savory plantain chip preparation, but sometimes sweet is just the thing to do, and this was no exception.  It's hardly an exact science though, I spray down a pan with a bit of oil, add the plantain slices (I used one large plantain), then sprinkle on a quarter cup brown sugar and equal dispensing of water.  Allow to cook for a few minutes on each side, and you're done.  Talk about a damn good dessert.
Then there were pictures……first is this portabella mushroom that was fairly good…but I can't remember for the life of me what I marinated it in.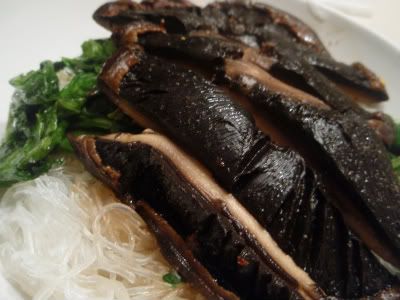 It was served up on a bed of wilted spinach and vermicelli….THAT I remember.  Next was the Cumin Seed potato-coleslaw hybrid from Vegan Brunch.
I had a head of already-cut red cabbage in the fridge that I used for this, and I switched out the red potatoes with plain old Chef's.  Maybe it was my fault for messing with the recipe a bit, but I just found this unremarkable.  It wasn't bad, but I've had better coleslaws and potato salads in my day…I wouldn't bother with it again.
I made another old favorite, being the leek and bean cassoulet from V'con, although I replaced the leeks with green beans, and was rather happy with that result.
It's not a looker in photographs, but I maintain my position that this recipe is the best comfort food there is.  Period.  If you think you've got something better let me know, but I stand behind it.
Last but not least, I made the lemon-pepper tofu, also from Vegan Brunch.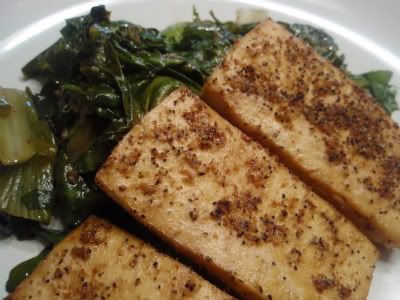 In all honesty, I just thought this was a bit TOO peppery, not my thing.  I like heat, but rubbing tofu in pepper just makes me sneeze…while cooking and eating.  I also had a no-salt added lemon-pepper, and forgot to add salt separately, so the dish suffered a bit in that regard as well.  Sigh.  It was served up over the escarole and beans recipe from V'con minus the beans.  It's the second time I've tried that recipe, and unfortunately I again came to the conclusion I simply don't like escarole.  Too bad.
Selah.